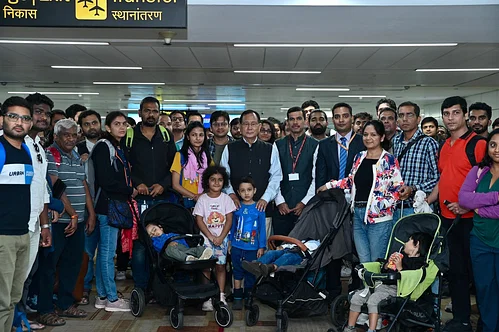 NEW DELHI: Amid the raging war in Israel, the second batch of 235 Indian nationals, including two infants, arrived in New Delhi on Saturday morning under 'Operation Ajay'.
The group was received at the airport by Minister of State for External Affairs and Education Rajkumar Ranjan Singh.
"#Operation Ajay continues to bring citizens home. 2nd flight carrying 235 citizens arrives in New Delhi. MoS @RanjanRajkuma11 received the citizens at the airport," the Ministry of External Affairs wrote on X.
"Received the second batch of Indians from Israel. Heartening to note that they are very appreciative of GoI's swift response #OperationAjay and @MEAIndia for smooth coordination," Singh said in a post on X.
Earlier, External Affairs Minister S. Jaishankar had shared pictures of the flight carrying 235 Indian nationals, which took off from Tel Aviv at 11.02 p.m. on Friday night.
India launched 'Operation Ajay' on Thursday to facilitate the return of its citizens in special chartered flights amidst ongoing violence in Israel after Hamas launched brazen attacks on the Jewish nation.
The first flight carrying 212 Indians took off from the Ben Gurion International Airport in Israel on Thursday and reached New Delhi on Friday morning.
The cost of the return of Indian nationals is being borne by the Centre.
The Ministry of External Affairs has set up a 24-hour control room in the national capital to monitor the situation in Israel and Palestine.
According to Israel embassy data, around 18,000 Indian nationals are living and working in the country, including caregivers, students, several IT professionals, and diamond traders.
The attack has killed more than 1,300 people in Israel and over 1,530 people in Gaza.