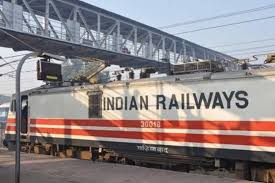 NEW DELHI: Finance Minister Arun Jaitley today announced a capital expenditure allocation of Rs 1.48 lakh crore for the Railways, the highest ever for the national transporter with a 13 per cent increase over last year, in an effort to put its flagging revenues back on track.
Presenting the 2018-19 Union Budget, Jaitley said that with an allocation of Rs 1,48,528 crore for Railways the focus was on strengthening the rail network and enhancing its carrying capacity. Last year, the allocation for Railways was Rs 1.31 lakh crore.
Jaitley also announced a 'Safety First' policy with allocation of adequate funds under Rashtriya Rail Sanraksha Kosh and a bonanza for suburban commuters in Mumbai and Bengaluru.
He said 600 major railway stations will be redeveloped by Indian Railway Station Development Company Limited and that all stations with more than 25,000 footfalls will have escalators.
"All railway stations and trains will be progressively provided with wi-fi. CCTVs will be provided at all stations and on trains to enhance security of passengers." he said.
However, no major new trains were announced and the focus was more on modernization besides passenger safety. The 92- year-old practice of a separate Railway budget was discontinued last year and was merged with the Union Budget.
"A large part of the Capex is devoted to capacity creation. 18,000 kilometers of doubling, third and fourth line works and 5,000 kilometers of gauge conversion would eliminate capacity constraints and transform almost entire network into Broad Gauge," Jaitley said.
In his speech in the Lok Sabha, Jaitley said the maintenance of track infrastructure is being given special attention and over 3,600 km of track renewal is targeted during the current fiscal.
Other major steps include increasing use of technology like 'Fog Safe' and 'Train Protection and Warning System'.
"A decision has been taken to eliminate 4,267 unmanned level crossings in the broad gauge network in the next two years," he said.
The finance minister also announced that modern trainsets with state-of-the-art amenities and features are being designed at Integrated Coach Factory, Perambur and the first such train- set will be commissioned during 2018-19.
In the coming year, 12,000 wagons, 5,160 coaches and approximately 700 locomotives will be procured and a major program has been initiated to strengthen infrastructure at the Goods sheds and fast track commissioning of private sidings, he said.
For the first time, railways will expand the congested Mumbai transport system to add 90 km of double line tracks at a cost of over Rs 11,000 crore.
The city will also get 150 km of additional suburban network at a cost of over Rs 40,000 crore, including elevated corridors on some sections, he said.
A suburban network of approximately 160 km at an estimated cost of Rs 17,000 crore is also being planned to cater to the growth of the Bengaluru metropolis, Jaitley said.-PTI