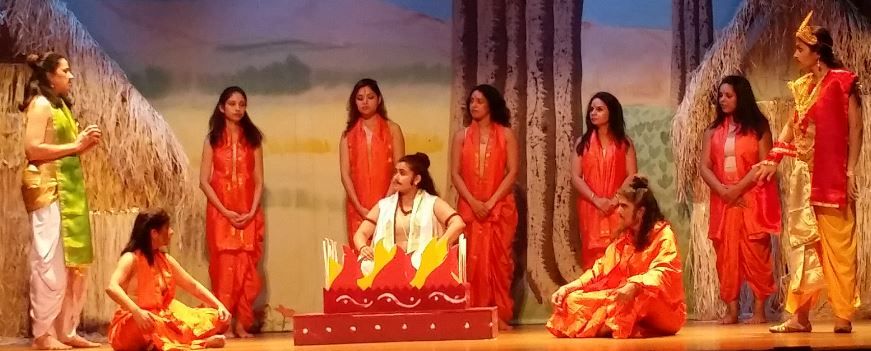 Geetha Patil
BELMONT, MA: Stage Ensemble Theater Unit (SETU) presented a 'two-show "rerun" of Girish Karnad's classic play The Fire and The Rain,in English with 28 "all-female" cast of actors and dancers at the Town Hall Theater, Belmont, on 22 and 23 September.
The play was brought back to the stage due to the popular demand from the audiences and it illuminated age-old human relationships with gods, rituals and sacrifices, and the complex societal order of the Indian caste system. The rerun provided the audience with some "interactive theater" experience dealing with characters' dilemma.
Setu (denotes bridge) is a non-profit theater group in the Boston area. It is observing its 15th anniversary with successful productions: Rape, Regret and Retribution, Hayavadana, Shah Jahan, Mahabharata, Once Upon a Time NOT in Bollywood, Ramayan, and Kamala. Its mission is to build bridges between Indian and Western cultures through the medium of theater. Setu selectively produces plays in English to project the ways of Indian life in a global context.
It attempts to present rich and diverse traditions in drama beginning from ancient times covering diverse forms from folk theater to musicals to modern drama forms, highlighting India's social, political and economic scenarios from the past and the present.
The Fire and The Rain unfolds around a fire-sacrifice arranged by the king to invoke god of rain by priests as the region was going through long years of famine and drought. The story is based on a story, Myth of Yavakri from the Mahabharata which lightens universal themes and can be used to interpret life situations of the modern age – alienation, loneliness, love, family, hatred through the daily lives and concerns of a whole community of individuals. Through these characters, the playwright is suggesting that to be real, knowledge must accompany right deeds.
Knowledge should be employed for performing right actions. If this is not the case, knowledge has to be sacrificed in favor of pure emotions because the knowledge which is selfish cannot and must not survive. In the play, ironically the outcaste character became specially empowered and achieved the object of getting rain back on the earth because of his simplicity, and profound humanism through Devaraj Indra who can both destroy evil and create good.
The play started and ended with amazing dances that were choreographed by Vasudha Kudrimoti, Pooja Tiwari and Shikha Bajpai. The costumes of the characters were imaginatively designed to lend an aura of religious grandeur and tribal look by Noorain Buxamusa, Jayanti Bandyopadhyay, Viprali Bhatkar and Janique Choux-Das. Pradeep Ramachandran, Prateek Paul, Marcus Hatch, Ravi Nimmagadda, Rohini Pola and others did a wonderful job with music, lightning, sound and stage arrangements.
The founding member of Setu, Smt Jayanti Bandyopadhyay welcomed the audience and gave a brief introduction of the play and raised some questions for the audiences to think and find the answers. Subrata Das, the director, said that it is an experimental production featuring an "all-female" cast. The play is not about women pretending to be men. Rather, it is about giving women the opportunity to take on roles that were created for male actors depicting predatory, abusive and savage behavior. "We have come a very long way, from women not being allowed on stage to this cast of 28 female members playing roles that were made for men."
Jayanti thanked the enthusiastic actresses for their vivid performances and cheering audiences for their great support. She also thanked India Association of Greater Boston, India New England News, Lokvani, Central Square Theater, Belmont Plymouth Church, Hindi Manch, Russo's and Belmont Cultural Council supported by Mass Cultural Council for their support. She also thanked the Belmont Town Hall Theater officials for providing their beautiful place for the event.