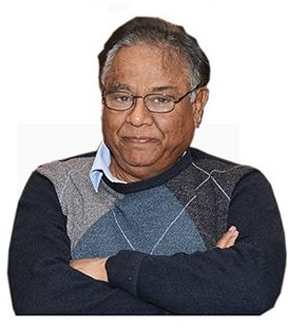 CHICAGO: Shirish Sanghavi, a prominent Indian American businessman and a pioneer in Indian grocery business, died on April 29 at the age of 70 from a massive heart attack. He was playing his favorite racquet ball game with his friends when he complained of chest pain. He was rushed to the Lutheran General Hospital in Park Ridge, IL where he breathed his last.
Sanghavi is survived by wife Premila, two sons Nilesh and Nirav, and Nirav's wife, Bibhuti.
From a young age, Sanghavi, an engineer, was always a high-energy person who loved to start his own business. His entrepreneurial instinct and business skills enabled him to establish Indian Groceries and Spices out of its Skokie, IL location. He was the foremost wholesale trader in Indian spices and grocery items for over 40 years.
Founder, Owner and President of IGS, Inc. Shirish Sanghavi catered to the increasing appetite of the growing Indian population in the United States. Apart from the warehouse and office in Skokie, IL IGS has offices in New Jersey, Houston, Los Angeles, Milwaukee and Toronto, Canada.
Due to its excellent quality, NIRAV the brand name for most IGS products, is a household and trusted brand in the community. Sanghavi was also active in charitable works and loved games and sports.
Services were held Saturday May the 2nd between 9 and 11 am at Countryside Funeral Home, 950 South Bartlett Road (at Stearns Rd.), Bartlett, IL 60103. A large number of well wishers, friends, business associates and members of Chicago community at large gathered at the venue to pay their last respects to the departed soul.
Ramesh Soparawala