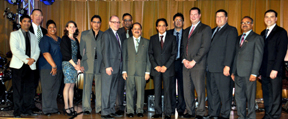 CHICAGO: Association of Indian Pharmacists in America (AIPHA) hosted its Annual Holiday Banquet and Business Expo on Saturday, May 2 in the Meadows Club, Rolling Meadows, a northwest suburb of Chicago, with over 600 members and guests in attendance.
The Banquet was attended by dignitaries including Consul General of Chicago Dr Ausaf Sayeed, Air India chief Nakul Chand, J. Stewart from Department of Prof Regulation, Dr Yash Amin, Director of Drug Compliance, L T. Gov Brian Colgan,, Hanover Park Mayor Rodney Craig Chief of Staff of Lieutenant Governor, Brian Colgan, Nimesh Jani, Elected Trustee of Schaumburg Township,Hardik Bhatt, Chief Information Officer of the State of Illinois and State Representatives Marcus Evans, Michelle Mussman, Tom Morrison.
Snehal Bhavsar, AIPHA Board of Director, invited all dignitaries on stage for lamp lighting. This was followed by Chief Guest Speech by Consulate General of India Dr Ausaf Sayeed and Keynote Speech by Jay Stewart.
Bollywood actress Hrishita Bhatt, known for her roles in Asoka, Haasil, and many other movies, performed a dance number. The audience response was loud and enthusiastic. Hrishita's dance was the entertainment hit of the evening.
Snehal Bhavsar, AIPHA Board of Director, invited President Harish Bhatt on stage. Harish Bhat said, "I want to recognize and congratulate all the pharmacists present tonight." He underlined problems faced by independent pharmacists with the changing landscape and the conversion of Illinois citizens from the Medicaid and Medicare programs to managed care organizations.
There is such a disparity in payment systems. The State of Illinois says the Medicaid budget is going up every year, and since it cannot control the drug cost, the first thing that is done is to cut Independent pharmacists fees. Independent pharmacists get near zero fees, but chains get paid up to $8 to fill a prescription, he observed.
Despite the hard times faced by pharmacists, the attendance was up. " This year the turnout is more than before because people enjoy networking and being involved," said Bharat Mehta, accountant for AIPHA.
Awards were given to Vitthal Patel for lifetime contribution; Ilesh Shah Ambassador Award for service, dedication and inspiration; Jivan Vachhani Ambassador Award for service, dedication and inspiration.
The following are the Executive Board members of AIPHA: Harish Bhatt (President), Rajesh Chotalia (Vice President), Jitesh Patel (Secretary), Haresh Khakhkar (Joint Secretary), Vitthal Patel (Treasurer), Jignesh Gandhi (Joint Treasurer). The Board of Directors include Tushar Mehta, Snehal Bhavsar, Jyotin Parikh, Gajanan Trivedi, Manu Patel, Shital Manek, Kishore Chugh, Mahendra R. Patel, Ambalal S. Patel and Ambalal H. Patel.
Asian Media USA