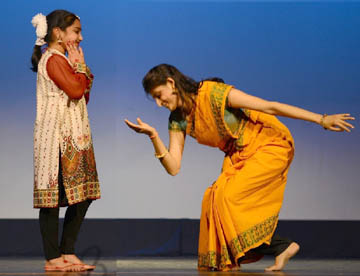 ST LOUIS: The three days Indian Dance Festival – the sixth in row – hosted by Soorya Performing Arts at the Clayton High School Auditorium during the weekend of April 11-13th turned out to be a grand success.
It was dedicated to the 'gurus' (teachers) of these art forms. Some of the gurus that were highlighted during the festival were: Guru Narmada, Guru Vempati Chinna Sathyam, Guru Kalamandalam Krishnan Nair and Guru Kalyani Kutti Amma.
The festival began with the traditional invocation which included sacred chants from the treatise, SoundaryaLahari, composed by Adi Shankaracharya, and songs on Lord Ganesha.
Major classical Indian dance styles of Bharatanatyam, Kuchipudi, Mohini Attam and Kathak were showcased by both professional and the younger, upcoming artistes. One of the recurring aspects that Guru Prasanna focuses on each year is to invite second generation Indian American groups that have learnt the art forms and seek to bring up to a wider audience the relevant modern day issues such as environment, population explosion, women's issues and other social topics.
One such invited group was Indique Dance Company. JIVA-Synergy in Nature was the special show that emphasized the role of Nature and its impact on life. The young, energetic dancers combined Eastern and Western classical dance forms, yoga and theatrical movements in their repertoire.
The first day of the festival brought productions such as Nireekasha, from Soorya Dance Company which had a good balance of melodious music from Guru Seema Kasthuri and dance rhythms from Guru Prasanna Kasthuri.
Nireeksha presented a new way of Bharathanatyam and Kathak dances. The theme was on modern poetry written by Vasantha Murthy. Young Samanvita Kasthuri and Shree Nivedita performed with ultimate grace and poise.
Both of them were flawless and perfectly graceful. Seema's interpretation of mother watching child growing was very touching. Mounica acted as a small kid and impressed everyone with an amazing abhinaya
Anuradha Naimpally, from Austin, Texas, a Bharathanatyam soloist performed with crispness and very graceful movements which came through Alaripu, songs on Lord Krishna from the Jayadeva Ashtapadi and a song praising Lord Shiva, concluding with a Tillana in Raga Hindolam.
Dr Saraswathi Rajathesh from India, a Kuchipudi exponent, performed the Simhanandini nrithyam, which was in praise of the Goddess Kathyayini. Mrs Lakshmi Sanjay, a Bharatanatyam student of Guru Narmada had her daughter perform a jathiswaram. She then performed an abhinaya piece.
The evening concluded with 'Kathak se Kathak' – an ensemble of pieces such as from Ram Charita Manas, Geetanjali and Bhagavad Geeta. Sheela Mehta, the Kathak exponent from India enthralled the audience as she has continued doing so every time she has performed here in St. Louis.
On the second day, Soorya Dance company students performed Vandana Trayee, comprising a dance on Lord Ganesha followed by a composition of Purandas. Siva Kuttumba, a series of dances describing the power of Lord Shiva by the dance group led by Kaushi Subramanyam of San Antonio, Texas, captivated the audience. The Ardhanareeshwara was very well performed as also the Tillana where the troupe brought out some fast paced unique formations on stage that kept the audience mesmerized.
Guru Vempati Chinna Satyam was well remembered by Sri Krishna Parijatham, a magnificent production by his senior students. In the role of Rukmini was Dr Kamala Reddy, from Pittsburgh, who is also a practicing physician, and a dancer par excellence!
The eyes of the rasikas were captivated by her fluid movements and graceful execution of the abhinaya. Shobha Natarajan from Chicago, Sasikala Penumarthi and Revathi Komanduri from Atlanta, were the other stars of the show, in the roles of Satyabhama, Krishna and Narada.
On the final day of the festival, the students of Guru Seema Kasthuri sang the invocation followed by Guru Prasanna Kasthuri's students performing a Kathak dance on Goddess Saraswati and a Tarana. The next program was Para Brahma Shivam by Aananda Dance Theater. The spell bound performance of Janaki Nair's troupe had dance pieces such as Ardhanareeshwara, Shambhunatham, Shivastuthi and finally the Kshampana Shloka by Adi Shankaracharya.
The next performance was by Guru Smitha Rajan accompanied by other talented dancers in the MohiniAttam style. The elaborate piece chosen was Swati Tirunal's composition, "Bhavayami Raghuramam", which is based on Ramayana. The production Saakshi by Maitrii of Detroit brought in four dance styles by four exponents in their styles-Bharatanatyam (Radhika Acharya), Kuchipudi (Sandhya Sree Athmakuri), Manisha Dongre (Kathak) and MohiniAttam (Asha Subramanian). They came together and brought Yugma-the dance confluence, by showcasing all the dance styles and also tying it with Yamuna related stories, on Krishna, Shahjahan's love for his beloved, and a patriotic story based on Jhansi ki Rani.
The second half of the evening was a session of folk dances. The St Louis Raas Garba Team held the attention of their audience with a wonderful choice of music and energy. Other folk dances included a scintillating Bhangra by Washington University students, thundering percussion by Tamil Sangham members led Porchezhian and friends, Kolata from Karnataka led by Annapoorna and friends; Garba by Neelima Ghosh, Hema Patel, Tejal Patel and their friends.
There was a unique dance created and choreographed by young kids. This second generation Indian Americans, presented a song created by them in a St. Louis Music studio on Ugadhi, the South Indian new year. The audience kept calling out for an encore for these feet tapping, rhythmic folk dances.
Guru Prasanna Kasthuri of Soorya Dance Company thanked the festival committee, the board members, the sponsors, hundreds of volunteers, US Wide Financials, local grocery stores, local restaurants, Missouri Arts Council (MAC) and Regional Arts Commission (RAC) for their support.
India Post News Service