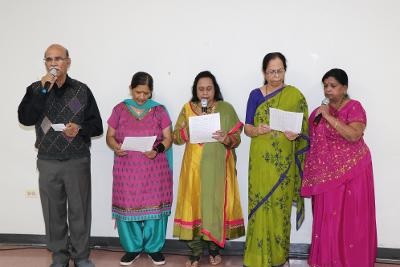 Jayanti Oza
CHICAGO: The General Meeting of Indian Seniors of Chicago was held on Saturday, November 12, 2022 at Manav Seva Mandir With about 170 members and guests attending. The entire program was managed by Bipinbhai Shah, member of the Executive Committee.
The start was with Bhupendra and Geeta Suthar, Usha Solanki and Panna Shah reciting Sarva Dharma Prarthna and Hanuman Chalisa. Hirabhai Patel presented income-disbursement account for the month of October and announced the names of individuals and organizations who had donated to the organization.
Professor Sharadbhai Shah gave a lecture on the election of the 15th Legislative Assembly of Gujarat state to be held in December 2012. He said that the results of the elections to be held on December 1 and December 5 will be announced on December 8.
Bipinbhai Shah talked about Thanksgiving celebrated in the month of November. He said that 'Thanksgiving Day' is a social and national festival of America. He shared information about the history and significance of Thanksgiving Day.
Bhupendra Suthar asked the members whose birthday falls in the month of November to come forward. The Chief guest Shivabhai Patel gave greeting cards to the birthday members then all members sang 'Happy Birthday to you' song together. A group photographs was taken on this occasion.
Dilip Patel, member of the Executive Committee, presented the photographs taken during the annual program held in the month of October. Secretary HirabhaiPatel thanked the volunteers who contributed to the success of the annual program. All those present appreciated the selfless services rendered by volunteers.
President Dr. Narsinhbhai Patel talked about the importance of exercise and yoga for a healthy life. In the general body meeting which will be held in the month of January, the members were appealed to participate in the costume program corresponding to the Amrit Mohotsav of Azadi. He also appealed to members to join December 31, 2012 program organized by Manav Seva Mandir.
Chirag Shah, Manager of Dynasty Home Care, gave detailed information about the benefits of Medicare, HMO, Citizenship, Medical Insurance, home Care benefits available to seniors from Government. He also answered member's questions.
Mrs. Bhanuben Mehta and Mrs. Suryaben Mehta gave information about yoga. Simple exercises for eyes, feet, hands, shoulders etc. were demonstrated and the members participated them in all exercises. They also informed how yoga can be useful for leading a healthy and full life.
Mrs. Veenaben Jani donated $501 to the organization for sweets. President Dr. Narsinhbhai Patel thanked with a bouquet. Photographer Jayantibhai provided photography services for the function. After singing a prayer, members enjoyed delicious lunch.