India Post News Service
CHICAGO: Upset Indians urged Birmingham Museum of Art (Birmingham, Alabama) to withdraw from its shop and online the String Doll featuring Hindu god Lord Ganesh
Lord Ganesh is highly revered in Hinduism meant to be worshipped in temples or home shrines and not to be thrown around loosely or used as a key chain, etc. Inappropriate usage of sacred Hindu deities or concepts or symbols or icons for mercantile or other agenda hurt the devotees
Birmingham Museum of Art (BMA) Director Dr. Graham C. Boettcher is urged withdrawing Ganesh String Doll from Museum Shop and website. It is also urged that Birmingham Mayor Randall L. Woodfin and Birmingham City Council President Wardine Towers Alexander to look into this issue.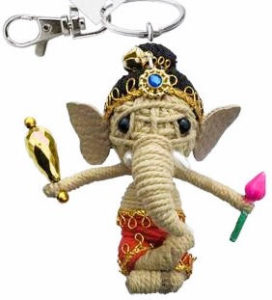 Hinduism is the oldest and third largest religion of the world, with about 1.2 billion adherents and a rich philosophical thought, and it should not be taken frivolously. Symbols of any faith, larger or smaller, should not be trivialized.
Rajan said, art had a long and rich tradition in Hinduism and Hindus were for free artistic expression and speech as much as anybody else if not more. But faith was something sacred and attempts at trivializing it were painful for the followers.
In Hinduism, Lord Ganesh is worshipped as god of wisdom and remover of obstacles and is invoked before the beginning of any major undertaking.
The Ganesh String Doll was priced at BMA Shop, online, at $11.
Founded 1951, the 180,000 gross square feet BMA, "houses a diverse collection of more than 27,000 paintings, sculpture, prints, drawings, and decorative arts dating from ancient to modern times". Dr. Anne Forschler-Tarrasch is its Chief Curator. BMA is one of the finest regional museums in the United States and owned by City of Birmingham.