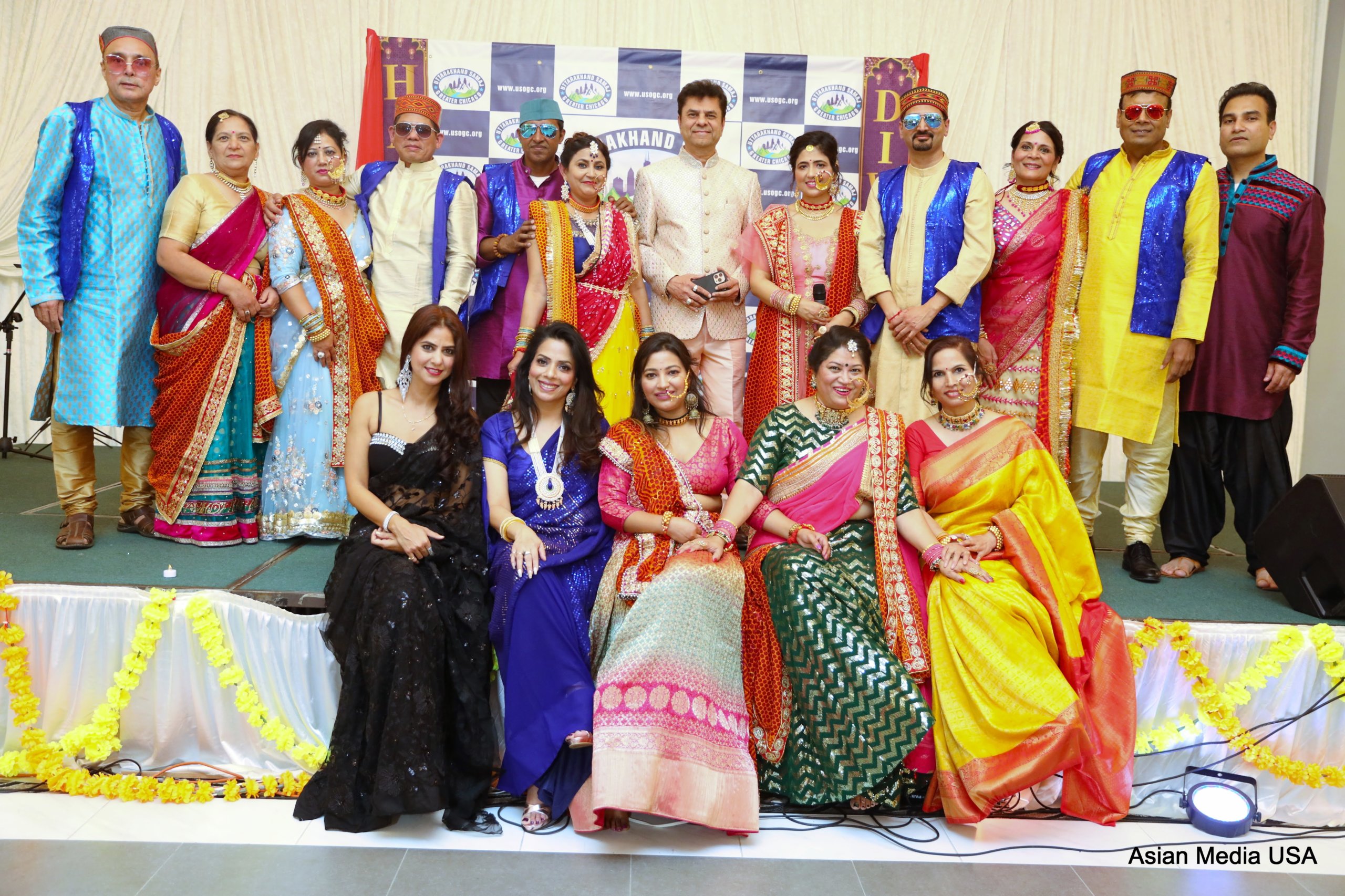 India Post News Service
Chicago, IL: Uttarakhand Samaj of Greater Chicago hosts Grand Diwali – The Festival of Lights celebrations, on Friday October 7th 2022 at Ashton Place Banquets, Willowbrook IL, with family & friends.
Guests came from near and far to attend the glittering evening to celebrate Diwali together, dressed in their traditional pahadi attire, 'Pahunchi', 'Galobandh', 'Hansuli', 'Nathuli' & 'Rangwali Pichauda'. Colorful rangolis, marigold flowers, brightly lit deeyas and Lord Ganesha's idol presiding at the entrance welcomed the guests into the beautifully decorated Banquet Hall.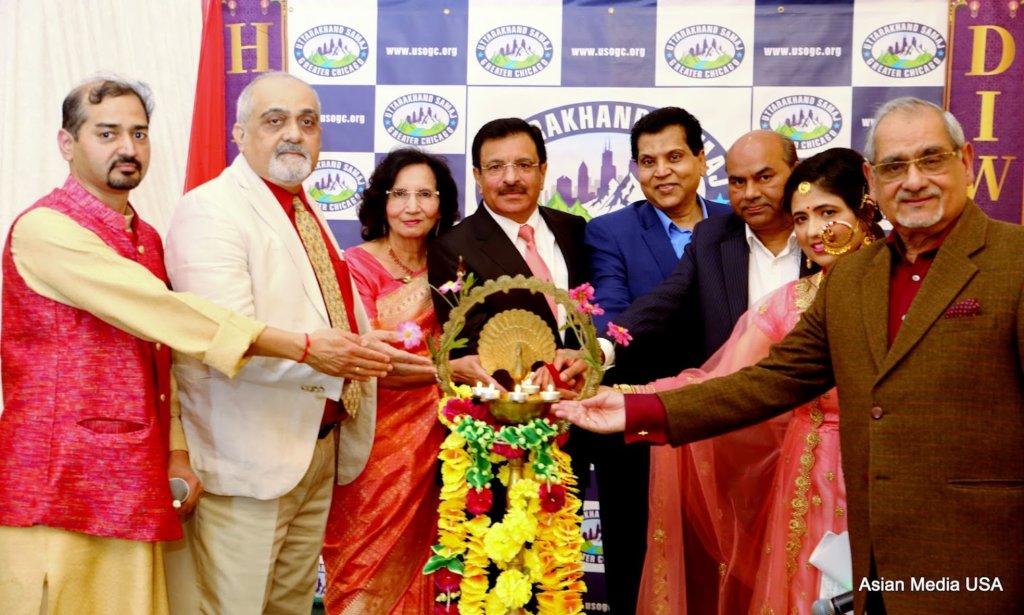 The cultural program began, promptly, with USOGC Video presentation, compiled by Mrs Rashmi Joshi, covering all the past year's activities by Team USOGC, followed by Nanda Devi Yatra (coordinators: Rajni Rawat & Rajeshwari Rawat), which represents a traditional pilgrimage journey that takes place every year in Uttarakhand. USOGC 2022 Board was invited on the stage for Team Introductions. The Indian National Anthem was beautifully sung by Ms Sahiba Sidhu, followed by the US National Anthem to honor and pay their respect to our motherland India and our adopted country that has given us a new life and we love them both equally.
President Chandan Singh, in his speech welcomed all the guests and dignitaries and said, "USOGC was registered as a charitable organization in Sep 2016. It was designed with a shared vision of bringing the Uttarakhandi community together living in the Greater Chicagoland area by increasing awareness, and promoting our culture, heritage, and language. Our goal is to bring all our Uttarakhandi friends and families together to share their views and provide social, and networking opportunities to all Uttarakhandies." Singh informed the gentry about USOGC's various community programs and its various initiatives conducting charitable events in the areas of education, health care, etc for people who need it the most here in Chicagoland as well as back home in Uttarakhand, India. He thanked all sponsors, and volunteers for their continued support.
Event inauguration was performed by lighting of the traditional Deeya by Chief Guest & Grand Sponsor: Mrs & Mr Anil Loomba (HMSI Home Mortgage Solutions) and Mr Chandan Singh (President USOGC) & wife Mrs Richa Chand (Founder/Past President), along with the Guest of Honors: Consul Hon Vinod Gautham and Mrs Rita Sahstri & Mr Manesh Shastri (TECMA), and special guests Mrs Kanan & Mr Om Dhingra, Mr Ravi Rawat, Advisory Board Member Dr Ajit Pant, Dr Vijay Prabhakar (Founder President AMEC & GSA), FIA President: Mr Hitesh Gandhi. Other members invited and acknowledged to join Lamp Lighting were: USOGC Executive Board Members: Mrs Smita Pant (Vice President), Mrs Rashmi Joshi (Secretary), Mr Vikram Negi (Treasurer) and Guest of Honor: Congressman Raja Krishnamoorthi, Mr Jagmohan Jayara (India House), Mr Jesse Singh (Remax), Mr Sunil Shah (Chairman FIA, NYL agent) Mr Mayur Max Ganger (Sajmil Builders), Mr Ajeet Singh (President IABC), Mr Keerthi Reevori (Chairman IABC).
Chief Guest, Mr Anil Loomba, in his speech, expressed happiness that we all came together to celebrate the first Diwali event of the season and he hoped we will continue the tradition in the following years as well.
The Guest of Honor at the Event, US Congressman Raja Krishnamoorthi was introduced by Mrs Richa Chand and President Chandan Singh & his Executive Board, Advisory Board members Sudha & Hans Upadhyay welcomed and joined Congressman Krishnamoorthi on the stage as he got ready to address the excited and cheering audience. Congressman Raja Krishnamoorthi stole the hearts of the audience by addressing them as "Namaskar Dagadiyo!" Dagadiyo means friends in Kumaoni/Garhwali language. In his eloquent manner, Raja continued his speech and commended President Chandan Singh and his Team for putting together a beautiful Diwali celebration and keeping the Uttarakhandi culture alive.
Guest of Honor Consul Vinod Gautham, also echoed the same sentiment, and assured Consul General Office support to the members of Uttarakhand Samaj of Greater Chicago. He applauded the efforts by team USOGC and congratulated Mr Chandan Singh and the entire team USOGC. Expressing his happiness and joy, he wished a very Happy Diwali to the Uttarakhandi community gathered there.
For expressing Gratitude & Appreciation, for acknowledging Community Leadership Achievement, a special trophy memento depicting Uttarakhand's famous Dham- "Kedarnath" was presented to Grand Sponsor & Chief Guest Mrs & Mr Anil Loomba, Guest of Honors: Congressman Hon Raja Krishnamoorthi, Consul Vinod Gautham, Mrs Rita & Mr Manesh Shastri, Sponsors: Mr Sunil Shah, Mr Jesse Singh, Mr Mayur Max Ganger, Mrs Om & Kanan Dhingra, Philanthropic efforts: Dr Vijay Prabhakar (Dr VGP), Dr Ghanshyam Pandey (Founder UP Association), USOGC Language Learning Program Teachers: Mr Ashutosh Joshi & Mr Dinesh Joshi. The trophy recipients all expressed happiness and spoke highly about the good work USOGC has been doing over the years.
By purchasing the special Kedarnath trophy mementos, USOGC has helped support DTribals, a USA based corporation, which is working on an ecommerce platform to give opportunity to Tribal, Disable, Women operating small scale business and other minority people living in the remote villages of India. A Food drive was also conducted by USOGC in partnership with SEWA International. USOGC Food Drive coordinators were Mr Shailendra Rawat & Mr Vikram Negi. A Silent Auction to promote Kumaon'ethnic art "Aipan" was also conducted by Mr Ashutosh Joshi.
As the evening progressed, various cultural performances were presented to the audience.
1) Chalka Chalka Re – Kathak Dance by Aarya Bahuguna
2) Bedu Pako Baaro Masa – A Pahari Folk Song. Singers: Rashmi Gandhi & Hans Upadhyay; Accompaniments: Om Dhingra, Kanan Dhingra, Deepa Pant, Usha Shah; Choreographer: Sudha Upadhyay.
3) Tero Lehanga – Ladies Group Dance Participants: Rajeshwari Rawat, Richa Chand, Rajni Rawat, Rashmi Joshi, Deepa Pant, Suparna Sharma, Meenakshi Jain; Choreographer:Rajeshwari Rawat
4) Cham-cham Ghunghuroo Solo Dance – By Kiran Rawat
5) Ramayana skit. Director: Mohan Rawat, Artists: Tanay Pant- Ram, Rishabh Mohan-Lakshman, Lavanya Sharma -Sita, Dancers: Roopali Dabral, Shenaya Sharma, Coley Fielding, Choreographer: Suparna Sharma,
6) Mero Pahada – Ladies Group Dance, Participants: Rajeshwari Rawat, Smita Pant, Aparna Bahuguna, Tara Bhandari, Roopali Pandey; Choreographer: Rajeshwari Rawat
7) Dolida Dance – By Chetna Pant & Puneeta
8) Moms & Minis Group Dance, Participants:Neetu Bhatt,Jinisha Bhatt, Ruchika Deepak, Sharanya Deep
9) Uttarkhandi Special – Board Group Dance, Participants: Rajeshwari Rawat & Chetna Pant, Richa & Chandan Singh, Rajni & Shailendra Singh, Renu & Vikram Negi, Suparna & Rahul Sharma, Meenakshi & Rajeev Jain, Choreographer: Rajeshwari Rawat.
The cultural events led by superstar emcees Mrs Richa Chand, Mr Mohan Rawat, Mrs Ruchi Dabral & Mrs Smita Pant, kept the audience thoroughly engaged and entertained throughout the evening. There were 4 raffle $50 gift cards sponsored by Mr Jesse Singh, given out to the lucky winners throughout the evening. Mrs Arti Rawat along with Mrs Pinky Thakkar, Mrs Rita Shastri and Mr Sunil Shah helped to pick the lucky winners.
Each family was given a Diwali Gift. A Certificate of Appreciation was presented to the participants. Other notable and distinguished guests felicitated at the event were Mr Dinesh Thakkar, Mr Altaf Bukhari, Mrs Deepali Saraogi, Mr Ganesh Kar, Mr Dharmesh Gandhi, Mr Ravi Rawat, Mrs Vandana Jhingan (TV Asia), Mr Suresh Bodiwala (Asian Media), Mr Harry Sidhu & Mrs Anu Sidhu (Outland Media), Mr Subbu Iyyer, Mr Manne Lingaiah, MrMandar Piter, MrNick Verma, Mr Sateesh, Ms Shree Gurusamy, Mrs Hema Shastri and many others who attended the event.
Registration Desk was managed by Mrs Arti Rawat & Mrs Rajni Rawat. DJ Thomas provided music, Mr Ajit Patel & Mr Suresh Bodiwala – photographers, Mr Iliyas -Videographer, from Asian Media USA and Mrs Vandana Jhingan, TV Asia, and Desi Talk, Desi Junction, Adbhhut Media as Media partners for event coverage.
Uttarakhand Diwali celebration was a very successful and well-attended event. People left with a huge smile on their faces and said that they are looking forward to the next one now! USOGC believes and preaches… "Garv se kaho hum Uttarakhand se hain". For more information, check out www.usogc.org and FB page. Contact email: [email protected]. Last but not the least, USOGC greatly appreciates our sponsors and supporters without whom this event would not have been a success.
Sponsors: HMSI,TECMA Engineering Group, India House, New York Life, Sajmil Builders, REMAX Realty, Royal Basmati, VR Fabrics & Home Design, Health 4 Silvers, Care for Soul.