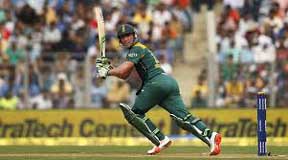 NEW DELHI: Fans of AB de Villiers can look forward to hearing the story of one of the world s most explosive batsmen when his autography hits bookstores next month.
"AB: The Autobiography" has been billed by publishers as "the story of a modern sporting phenomenon."
The book will cover key events and influences that have shaped his life and career, from his childhood and schooling at Afrikaanse Hoer Seunskool (Affies) through to his present successes, experiences and controversies as captain of the ODI team.
It will offer access to the man behind the bat and beneath the helmet, exploring career-defining moments, on-and-off the field events and his relationship with various mentors, the publisher said.
"This is AB's story, in his own words. The story of the youngest of three talented, sports-mad brothers growing up in Warmbaths, of a boy who excelled at tennis, rugby and cricket, of a youngster who made his international debut at the age of twenty and was then selected in every single test played by South Africa for the next eleven seasons, of a batsman who has started to redefine the art, being ranked among the world's very best in test, ODI and T20," it said.
The autobiography will also explore de Villiers' interests in music and business and how he pursues these alongside his international cricket career.
The hardback edition of "AB: The Autobiography" will be released in English and Afrikaans locally on September 8, and simultaneously in English by Pan Macmillan in the UK, Australia, New Zealand and India.
"For me, playing for South Africa through the past 11 seasons has been a fantastic privilege, from my debut against the West Indies right through to all the drama of the 2015 Cricket World Cup semi-final against New Zealand a few months ago, and I am looking forward to telling my story," de Villiers says.
"'This project is an immensely exciting one for Pan Macmillan. AB de Villiers has proven himself, on and off the cricket field, to be a South African leader and an inspiration to millions of people at home and internationally. We are proud to bring his inspirational story to readers around the world," says Terry Morris, MD Pan Macmillan (South Africa).–PTI