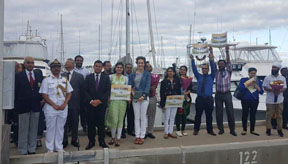 NEW DELHI: An Indian Navy sailboat, which is on an expedition of circumnavigating the globe with an all-women crew, today reached New Zealand's Lyttelton port, the Navy said.
The six crew of the Indian Naval Sailing Vessel (INSV) Tarini, led by Lieutenant Commander Vartika Joshi, started their maiden voyage on September 10 from Goa and are expected to complete it in about eight months.
The expedition is being covered in five legs, with stop-overs at four ports –
Fremantle (Australia), Lyttleton (New Zealand), Port Stanley (Falklands), and Cape Town (South Africa).
Presently, Indian Navy Sailing Vessel (INSV) has covered two of the five legs of the voyage, with the first port halt at Fremantle (Australia) in October.
Reacting to the tweet of the Indian Navy which posted the update of INSV Tarini reaching Lyttelton, Prime Minister Narendra Modi tweeted, "Delighted to know. The team of #INSVTarini continues their mission with unmatched determination."
This is the first-ever Indian circumnavigation of the globe by an all-women crew.
The vessel is skippered by Joshi, and the crew comprises Lieutenant Commanders Pratibha Jamwal, P Swathi, and Lieutenants S Vijaya Devi, B Aishwarya and Payal Gupta.
Defense Minister Nirmala Sitharaman had flagged-off INSV Tarini from Goa.
The vessel has so far covered 7,800 nautical miles from Goa, crossing the Equator on September 25 and Cape Leeuwin on November 9.
INSV Tarini would return to Goa in April 2018, on completion of the voyage.
"The indigenously-built INSV Tarini is a 56-foot sailing vessel, which was inducted in the Indian Navy earlier this year, and showcases the 'Make in India' initiative on the international forum," an official statement said.
The crew has also been collating and updating meteorological, ocean and wave data on a regular basis for accurate weather forecast by India Meteorological Department (IMD), as also monitoring marine pollution on the high seas.
The vessel is likely to depart Lyttelton on December 12.-PTI