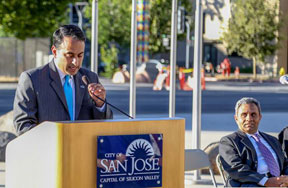 FREMONT, CA: Thousands of people from the Indian Diaspora, Bollywood and Hollywood celebrities were part of the spectacular 23rd annual Festival of India Parade in Fremont, California. Billed as the biggest Indian parade in West Coast to celebrate the 69th Independence Day, the event kicked off on Saturday with Mela and cultural performances. The 23rd Festival of India and Parade was held on August 15 and 16 at 39439 Paseo Padre Parkway, Fremont, CA.
For past 22 years, FIA organized Festival of India has come to symbolize the unity, integrity, culture and best of the things that are hallmark of the Indian community in Bay area. Celebrated over two days, this festival has many popular and well sought after segments such as health fair, grand parade, Bollywood celebrity as Grand Marshal, kids talent programs, cultural programs representing cross section of India and a Mela (fair) that features best of offers for Indian community.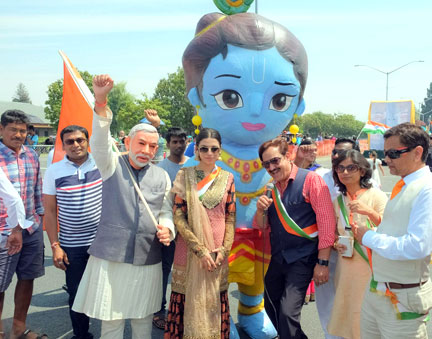 On a hot weekend with temperature soaring over 100F and summer coming to a close, 23rd Festival of India opened with a bang in California, which has over 16% of Asian population.
Festival of India and Parade in Fremont organized by Federation of Indo Americans of Northern California (FIA) is the most awaited event of California and it symbolizes the unity, integrity, culture and best of the things that are hallmark of Indian community in Bay area.
It started as a local event some 22 years back and has now grown manifold. It showcases the perfect blend of fun, entertainment and national integration. Today it has become a national event attracting participants from as far away as East Coast, says Dr Romesh Japra, Convener of FIA.
The celebrations kicked off with a flag hoisting ceremony on August 12 at the San Jose City Hall. The event was hosted by Councilmember Ash Kalra. The event was attended by Consul General Venkatesan Ashok, Mayor Sam Liccardo, Dr Romesh Japra, Rajesh Verma to name a few. Dr Japra, Chairman and Convener of the FIA, spoke about what the flag raising ceremony meant to him, "Every year it keeps getting better and bigger – I think we realize how fortunate we are to have this freedom, unlike many others. This flag hoisting makes us proud and makes us realize who we are and what we are."
The festival opened on August 15 at 10 am in Paseo Padre Parkway with the "Free Health Fair". The Health Fair had about 30 Indian American physicians and other medical professionals providing free medical services and follow up. The fair was organized by FIA team members with physicians and other medical professionals from AAPIO, Uppal Dental Care, Gateway Eye Care. The Health Fair was attended by over 2000 and lasted for about four hours.

Gala parade, the most awaited event started at 12:00 pm and lasted for over two hours on August 16. Grand Marshal Bollywood star Divya Khosla Kumar from T-Series led the parade with FIA Chairman Dr Romesh Japra. The Parade route was on the main street of Paseo Padra Parkway. The parade was coordinated by Deepak Chhabra and there were about 20 floats showcasing the rich culture and heritage of India.
Many local ethnic groups such as Bay Area Telugu Association, Bay Area Tamil Manram, RANA, Kannada group, Telangana, Assam, Maharashtra, West Bengal participated in the parade with colorful floats and entertainment programs highlighting the state's culture and heritage. Cultural events showcasing the talent of Bay area kids and adults went on for all two days.
The cultural events were spread for two days under different categories of groups and solo in both Indian and Western dance forms. Several Bollywood and Hollywood celebrities such as Pooja Batra, Deepti Naval, Sarah Shukla, Gulshan Grover, Ipsita Pati, Micheal Pare, Sunil Thapa, Ketki Adikari, Nandita Kesi, Gurneet Monga, Taran Adarsh, Locket Chaterjee and Radhika adorned the parade.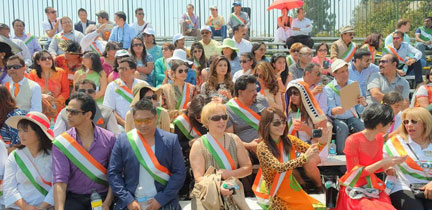 The Festival of India, besides having the entertainment factor, is the best platform to market your business. The festival offers an opportunity for businesses to provide support, patronage and encourage events that increase and strengthen the cultural diversity and community involvement. There were around 110 trade booths and 15 food booths. The trade booths catered to wide range of business starting from fashion jewelry, clothing, mend designers, real estate, insurance, credit union etc. There were stalls carrying multi-colored and elaborately patterned fabrics of saris, shawls and kurtas; intricately designed bangles, toe rings, anklets and earrings.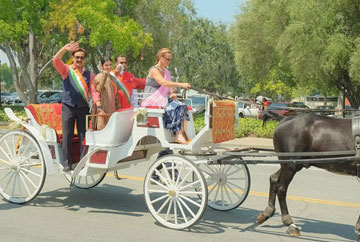 Sponsors who made this event possible are Visitor's Coverage, Anjaneyap, Wells Fargo, Bank of the West, Dhun Thacker Architects, Kingfisher, McDonald's, P G & E, Nurture Kids, Comcast, PCA, Vaneet Sharma, to name a few.
Commenting on the success of the Festival, Rajesh Verma, President FIA said, "This is our way of passing on the torch of our pride in our traditions to the future generations of American Indian youth." Festival of India is unmatched in performance, participation and organization by dynamic and talented spirit of Asian Indians.
Vidya Sethuraman
India Post News Service