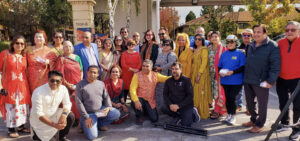 Ritu Maheshwari
India Post News Service
FREMONT, CA: The Diwali Flag Day Observance took place at Fremont City Hall, complete with a Diwali Flag raising ceremony on Thursday, November 9th. This marks a historic moment, especially considering that Diwali, the Hindu Festival of Lights, is a globally celebrated event, deeply significant to over a billion Hindus worldwide.
Over the past 4 decades, Hindu Americans have tremendously grown in size, strength, and in contributions to the American economy and diversity. With the Festival of Globe (FOG)'s unrelenting efforts, the City of Fremont has declared Diwali Day as a permanent annual Day.
Fremont is home to a vibrant community of 38% Hindu Americans, which is a city of a total of approximately 250,000 residents. The recognition could not have come at a more opportune time, with the Hindu-American community turning out to be a huge influencer in many parts of the Bay Area.
Dr. Romesh Japra, FOG Founder, thanked the City of Fremont for declaring the Diwali Flag Day event as an annual event. He added that this would encourage our community and especially the kids to enjoy the festivities while appreciating the richness of our culture.
This festival symbolizes the triumph of good over evil and the journey from darkness to enlightenment—a powerful message we pass on to future generations and share with diverse communities.
Our community in Fremont takes immense pride in our rich heritage and culture. This event is not just a celebration but a call to spread the spirit of Diwali across the United States and the world. Let's light up every corner with the joy and positivity of Diwali!
Also Read: FOG Diwali 2022 celebration a Huge Success