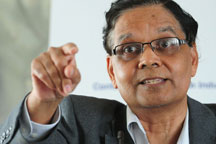 NEW YORK: Indian-American economist Arvind Panagariya has said that he is "honored" to be appointed by Prime Minister Narendra Modi as the first Vice Chairman of the newly created NITI Aayog, which replaces the 65-year-old Planning Commission.
"I am honored by this appointment, and I look forward to working with Prime Minister Modi and policymakers across India," Panagariya was quoted as saying in a statement issued by the Columbia University here.
Panagariya is the professor of economics and the Jagdish Bhagwati Professor of Indian Political Economy in the Department of International and Public Affairs. He will take a leave of absence from Columbia to accept his position at the National Institution for Transforming India (NITI) Aayog.
The 62-year-old professor said he expects to continue to engage with Columbia's School of International and Public Affairs (SIPA) "when such opportunities arise" and will resume his work at the School when his assignment is completed.
In his new cabinet position, Panagariya will work closely with Modi, who will serve as chair of the renamed institution.
Officials envision NITI Aayog as a government "think tank" that will provide strategic and technical advising on key issues.
Panagariya, who has been a strong supporter of Modi's Gujarat model of development, had said some months ago that he wants the BJP government's first budget to boost capital spending even at the risk of a higher fiscal deficit.
He has earlier worked with various international bodies like World Bank, IMF and Asian Development Bank (ADB).
Holding a Ph.D degree in Economics from Princeton University, Panagariya has also worked for the World Trade Organization and the United Nations Conference on Trade and Development (UNCTAD) in various capacities.
During an address at Columbia in September last year on what the Modi government must do to transform the Indian economy, he had said a replacement for the Planning Commission must be "lean and thin" and had termed as "brave" the decision by Modi to do away with the 1950-dated institution.
Panagariya had suggested that Modi should put in "as lean and thin a team" for the Commission's replacement with 10-12 people and "lots of resources so that they can draw on the experts as necessary" and then periodically that team should meet with the Prime Minister and Finance Minister.
SIPA Dean Merit Janow congratulated Panagariya on his new role and said his global perspective and broad experience would serve him well as the Vice Chairman of NITI Aayog.
Other members
Economist Bibek Debroy and former DRDO chief V K Saraswat were appointed as full-time members while Union ministers Rajnath Singh, Arun Jaitley, Suresh Prabhu and Radha Mohan Singh were made Ex-Officio members.
Ministers Nitin Gadkari, Smriti Zubin Irani and Thawar Chand Gehlot will be Special Invitees, according to a PMO statement.
Formation of the NITI Aayog or National Institution for Transforming India was announced on January 1. It will serve as a policy think-tank for the central as well as state governments with the Prime Minister as its Chairperson.
The NITI Aayog will have a governing council comprising all state Chief Ministers and Lt Governors and will work towards fostering a 'co-operative federalism' for providing a "national agenda" to the Centre and states. -PTI