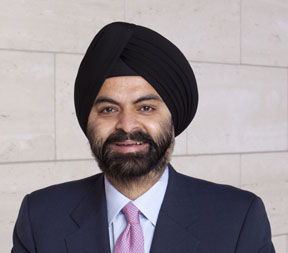 NEW YORK: MasterCard's India-born CEO Ajay Banga has expressed hope that the US will soon have a woman leading the country, underscoring that the world today needs more women heading countries and running companies.
"You need women who lead countries. I hope we have one soon. You can see where I'm going," Banga said at the Women in the World Summit here, hinting support for Democratic presidential hopeful Hillary Clinton, the lone woman candidate for the US presidency this year.
Banga, 56, said there is "need to have women as CEOs, on boards, in the private and public sectors."
"We need more like them, not few, we need many more and I think we have got a long way to go. We need men to take ownership as much as women of these issues and I'm hoping you will see more of that, not just in our company but everybody else," Banga said at the conference organized by renowned author and media personality Tina Brown.
Voicing admiration for his colleague PepsiCo's CEO Indra Nooyi, Banga said that the world still has a long way to go on the issue of "getting enough women to come through the pipe all the way to the top. Not just CEOs like Indra, whom I admire but even on boards because they create role models."
While 25 per cent of MasterCard's board is women, Banga said this ratio is better than some companies but "not good enough."
He said having women occupy just a third of the board seats is not enough and companies should target having women occupy at least half of the board seats.
"Why not 50 (per cent), why is 30 (per cent) the right number suddenly. We make a mistake when we put a number out there saying lets sign up for 30. Why," he said.
Banga said humanity will not prosper if half the world's population is "underutilized and subjugated".
He informed the audience of women leaders, CEOs and activists that MasterCard has achieved pay parity and men and women are paid the same amount for the same job.
Banga asserted that men have to take "ownership" and ensure women at workplace and in families are treated equally.
He said the father in the house should ensure that his daughter is not the only one helping with the household chores but that the son too has responsibility.
He added that mothers too have a role to play in ensuring equality among kids, saying "both genders have to take ownership in small ways."
"There are small things we can change in the way people think within educated families on how their girls should be treated," Banga said.
He stressed that companies have to ensure that women returning from maternity leave are able to smoothly re-enter work and enough tools should be made available to her so that she can manage work and responsibility of a new child easily.
"I still think this is the tip of the iceberg. We have to get to where a woman can feel completely confident that they can pass through this phase and that their kid will still be well looked after and they can get back to work. That to me is still wet ink in almost all of America," he said. -PTI