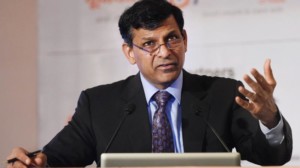 NEW YORK: Comparisons between India and China are "unfair" as India "pales" before the Communist giant, which is about five times India's size, former RBI Governor Raghuram Rajan has said as he emphasized on improving infrastructure for the country's growth.
"I think the comparison is often made between India and China. That is a comparison which to some extent is unfair to India. They are two very different countries," Rajan said.
Rajan, who is currently the Katherine Dusak Miller Distinguished Service Professor of Finance at The University of Chicago's Booth School of Business, gave The 2018 Albert H Gordon Lecture on April 11 at the Harvard Kennedy School on the topic Leverage, Financial Crises, and Policies to Raise Economic Growth'.
He said India "pales" in comparison to China, which is about five times India's size while the per capita is about the same as populations in both countries are approaching each other.
"By any criteria, except comparisons to China, India is a very impressive story, he said, pointing to the seven per cent GDP growth over the last 25 years.
On what India has not done that China has, Rajan said India has not built out infrastructure and construction. Rajan said an enormous part of Chinese growth and manufacturing growth has been much better logistics, access to ports and roads, something "which India doesn't have".
Rajan cited a hypothetical example of building a six-lane highway in India, saying there will be a pushback for such a project. He said it is difficult to build infrastructure in India as one would be running over so many people's land.
"You have a close to first world civil society, very entrepreneurial politicians but a third world administration. Put that combination together and it becomes very hard to build out, acquire land and build those mega projects in India, he said.
Rajan voiced optimism that at "some point we will figure out how to do it reasonably."
In this regard, India's biggest advantage is that it is a democracy, he said.
"Ultimately I believe that the strongest system for growth is not a state-run system, not an autocratic system. When you are at the frontier, a liberal market democracy is the strongest system because of the checks and balances built into it," he said.
Rajan said India is poised to achieve higher growth.
"India has a lot to do to get there but it doesn't have a deep constraint in reaching there. It has to make sure it doesn't go autocratic on the way but it has all the elements to reach there, he said.
Rajan noted that once India's catch up growth happens, which could be another 10 years, it will get "closer to the frontier. India is (then) much better positioned to stay there for longer."
In 2017, China's GDP growth rate of 6.8 per cent was ahead of India's at 6.7 per cent, giving the former the tag of being the fastest growing emerging economy.
The Indian economy, which grew at 7.1 per cent in 2016, slowed in 2017 due to demonetization in November 2016 and GST rollout in July 2017. PTI