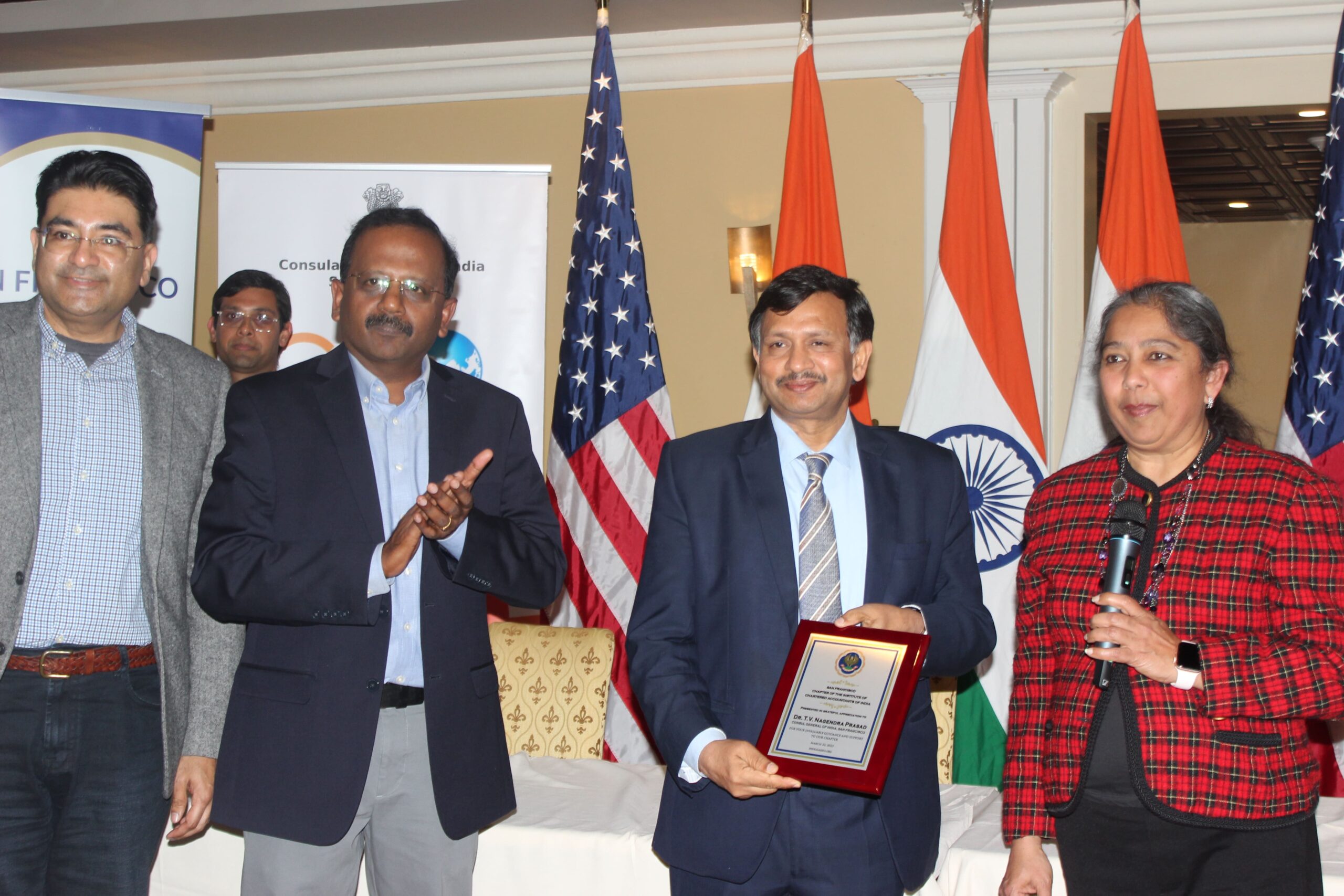 Vidya Sethuraman
India Post News Service
Consulate General of India, San Francisco in association with the Institute of Chartered Accountants of India San Francisco Chapter put together an event on March 22, 2023, at Amber Restaurant, Los Altos with a focus on "Investment Opportunities in India & GIFT City".
ICAI San Francisco Chapter was established to serve the US-based members of The Institute of Chartered Accountants of India. The San Francisco Chapter aims to generate goodwill between the accounting fraternities of India and the US and build an immaculate network to pave paths for its members to work with the local institutions and contribute to the well-being of its economic citizens. The aim of this organization is to help Indo-Americans with tax-related queries and tackle misinformation for tax-related issues.
Ambassador Dr. TV Nagendra Parsad, CGISF thanked the ICAI and Consulate team for putting together this event. Ambassador Prasad said that India is expected to be the fastest-growing economy of the seven largest emerging-market and developing economies. Apple is targeting to manufacture 25% of all of its iPhones in India, up from 5%-7% currently.
India is set to become the third-biggest economy in the world by 2027 driven by rising consumption, and social and economic reforms. For this, infrastructure is very important. The government has introduced a number of effective policies to make it possible.
He also added India has administered 225 crore doses and has helped 85 countries to move out of the crisis by sending vaccines to them. Consul General Prasad also said violence has no space in our community. This was said in relevance with the latest attacks on the SF Consulate.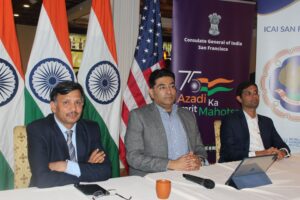 CG Prasad urged all the venture capitalists based in Silicon Valley to invest in GIFT city and other parts of India. GIFTCity, an emerging global financial and IT services hub and a first-of-its-kind in India, is designed to be at or above par with globally benchmarked business districts.
It currently houses 38 funds, 23 banks, 23 insurance companies and Intermediaries, two international exchanges and a slew of ancillary establishments making it a conducive business ecosystem. It continues to witness growing interest from Fintech players.
The startup ecosystem in India is the third largest startup ecosystem in the world, boasting an impressive 115 unicorns, which are billion-dollar enterprises. In 2021, Indian startups raised $44 billion, with over $33 billion going towards deals worth more than $5 million.
In order to better understand the nuances from regulatory, tax, legal and other perspectives and identify measures required to make India the preferred location, IFSCA has constituted an expert committee to formulate a roadmap to onshore the Indian innovation to GIFT IFSC. Set up by the Indian government in 2015, the International Financial Services Centre (IFSC) is located in GIFT City, a special economic zone (SEZ) in Gandhinagar, Gujarat. It is designed for financial institutions that serve non-residents and deal with foreign currency.
Institutions that set up shops in IFSC enjoy certain tax benefits as well as light touch regulations. These benefits are aimed at attracting foreign financial institutions to set up in India as well as convincing Indian financial institutions to operate out of the country rather than set up offshore banking entities.
The power-packed event had an impressive line-up of dignitaries Sandip Shah, General Manager, GIFT city, Ashutosh Sharma, GM, IFSCA, Suresh Swamy, Pricewaterhouse cooper, Aditya Modani, Ernst & Young and Nilesh Shah, ICAI, SFO. All the panelists spoke on the advantages and ease of having a presence at GIFT city that attracts and retains tremendous wealth creation and value creation to India.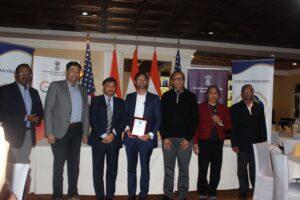 Sandip Shah said the establishment of the international fintech institute will help bridge skill gaps among fintech professionals by providing them with multidisciplinary education and training and integrating it with higher education. It will also support applied research and development.
As part of the Start-up Ecosystem Banking, ICICI Bank has set up a dedicated team for start-ups that would serve them through an extensive network of branches. The Start-up Ecosystem Banking proposition of the bank will also offer treasury and transaction banking solutions, lending solutions, digital integrations, handling FDI and regulatory compliances, and personal banking services for employees and founders.
In 2023-24, the government proposed an extension of tax benefits to funds relocating to IFSC, GIFT City till March 31, 2025. "For countries looking for digital continuity solutions, we will facilitate setting up of their Data Embassies in GIFT IFSC," Finance Minister Nirmala Sitharaman said during her Budget speech.