Archana Asthana
Naatak, repeats its experiment with a male and female version of The play titled "KK" written by its founder Sujit Saraf, directed by Vikas Dhurka, and produced by Alka Sippy, playing at Starbright Theater in San Jose in early December. Looking for overlaps, common junctures or departures in the two renditions, was an interesting exercise, in addition tog rasping the gist of the play conveyed by both.
The bare bones story revolves around a professor of Hindi literature at Delhi University on his maiden attempt to a bustling city area, Connaught Place, seeking a rare book by his favorite author. What follows next is his bumbling attempt to understand the nuances and culture of the big city, quite at odds with his simple campus life. The city milieu includes fruit vendors, card players, booksellers, security guards, shoppers, shopkeepers, film goers, gangsters and gold smugglers, and an inexplicable movie style mix up.
KK's time in the city leads him to interact with these characters leading to predictable shenanigans where he is horrified with the escalated cost of everything, at people using their time to shop and play cards instead of working during the day; and much to his chagrin, their complete lack of interest or knowledge about Bhartendu Harishchandra, a noted scholar of Hindi from an era bygone, despite his numerous attempts to ignite some passion in them.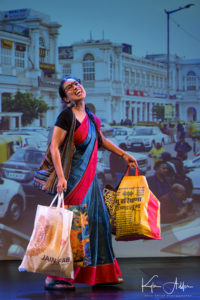 The pivotal point occurs when KK gets sucked into an involuntary Bollywood movie situation modeled after his favorite actor, whose movie dialogues he can spout from memory. The upshot of the total experiences is realignment of priorities, and reverting to their original modes, eschewing the new accoutrement.
Carrying on a monologue upon which the entire play rests is a challenge, and both actors (Ritwik Varma as Krishna Kant and Neha Goyal as Krishna Kali) delivered valiant performances in this regard, keeping the energies fluid and ongoing. Lengthy discussions of some topics got repetitive, and voice projection definitely got lower with time, although in this theater's intimate setting, it was not a big deal. KK's failed efforts to assimilate in the bustling city life shown through the male KK changing into a shirt, thrust upon him by an insistent vendor, from his simple kurta; and for the female KK to don a pair of sunglasses. However, the latter does not convey the transformation as effectively for Krishna Kali, as it does for Krishna Kant, and the idea is lost in translation.
Both versions offered laughter in witty dialogues, situational comedies, linguistic nuances and some physical humor. Deft movement of props on and off stage was interesting, and intermittent bare stage provided the actors room to engage with imaginary actors in the story. Impactful interactions on stage with other characters were briefly presented, livening up any sagging vigor.
Naatakis again to be applauded for trying out new formats for engaging the audience, as in this101st production of soliloquy fully immersed in conversations with a crowded stage.