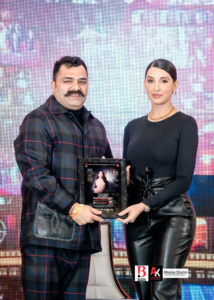 Vidya Sethuraman
India Post News Service
Bolly Events' Bikramjeet Singh and Akash Sharma hosted Bollywood sensation and star Nora Fatehi for the 5th annual Women empowerment Gala on March 14th at Aria Banquet hall, Milpitas. The event was well attended by over 250 prominent members of the South Asian community. Bollywood Events and partners presented a fun filled night to celebrate "Womanhood". Over 10 Bay area women, achievers in their own right were honored at the gala by Bollywood actress Nora Fatehi, who is not just a Bollywood actress, but also a success story herself.
I'm so thankful for this year's Women Empowerment Event team members. We are so excited to put this event together for our loving community but we were even more excited when Canadian actress, model, dancer, singer, and producer who is predominantly known for her work in the Indian film industry one and only Nora Fatehi agreed to come as Guest of honor, said Bikramjeet Singh, Bolly events. His company has hosted hundreds of shows all over the country and is considered a reliable name in the entertainment industry.
Bollywood Events is Bay Area's premier entertainment company covering all aspects of the entertainment spectrum including Live Concerts, Dramas, Events for over two decades. The main mission of the company is to produce Celebrity Event Promotion and bring Bollywood to Hollywood. The company was founded to create a bridge between two entertainment Giants and bring people closer to home, especially in America.
Women are an important element of our Society. Modern society has started recognizing the individual identity of women. She is believed to have her aspiration, abilities and qualities as a man does have and it is also agreed that she should have the opportunities to develop her faculties and to express them according to her own choice. The extent of women's participation in corporate life is thus the measure of social change, he added.
This event was put together in less than 24 hours and thanked all the sponsors for their generous support, Akash Sharma, AK Entertainment.
Nora Fatehi said she is constantly "surprising herself" and "evolving" as an individual in life. She interacted with the emcee Simantinee Roy and answered questions. She said it is inspiring to see the successes of several women. I feel honored to be part of this event to celebrate the spirit of Women with leading Entertainment companies and the local community. Nora said we need to empower women from all walks of life.
I always believed I didn't need to wait for someone to give me a platform to showcase that. We should create a platform for ourselves. It's the hard work, dedication, talent and earnestness that counts. I hope that inspires people. I wouldn't have it any other way, added Nora.