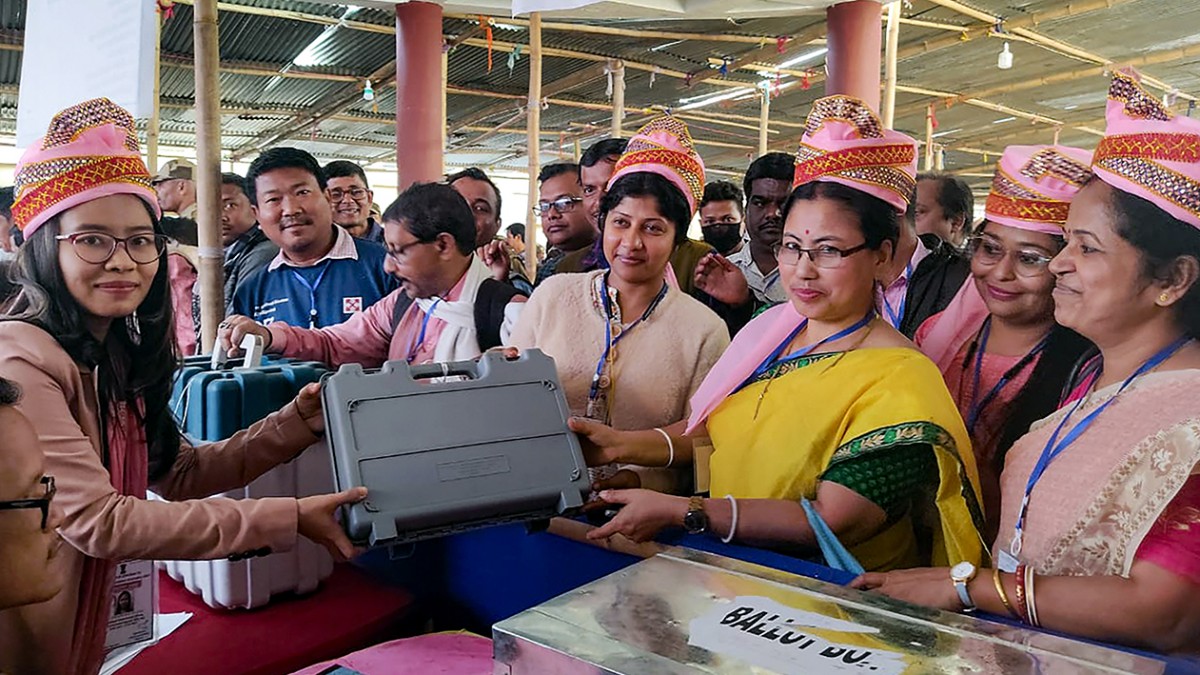 AGARTALA: The polling for the Tripura Assembly elections began amid tight security on Thursday.
The voting started at 7 am and will continue till 4 pm.
According to Election Commission, over 28.14 lakh electorates of which 14,15,233 are male voters, 13,99,289 are woman voters and 62 are of the third gender, are eligible to cast their franchise. The voting is underway at 3,337 polling stations.
Adequate security arrangements have been made for the polls. The state has 97 all-women-managed police stations. It has 94,815 voters in the 18-19 age group and 6,21,505 in the 22-29 age group. The highest number of voters are in the 40-59 age group at 9,81,089.
The fate of the 259 candidates will be sealed on 60 Assembly seats today.
A triangular contest is on the cards as Congress and CPIM, which have been arch rivals for years, stitched a pre-poll alliance to defeat the ruling BJP while the BJP which is looking to retain its power is contesting in alliance with Indigenous People's Front of Tripura (IPFT) and the Tipra Motha which is being seen as a kingmaker in case of a hung assembly scenario, emerged as an influential regional party floated by the royal scion Pradyot Kishore Debbarma in 2021. Meanwhile, Trinamool Congress has also put up candidates on several seats.
The BJP is contesting on 55 seats and its ally, IPFT, on six seats. But both allies have fielded candidates in the Ampinagar constituency in Gomati district.
The Left will contest on 47 and Congress on 13 seats, respectively.Of the total 47 seats, the CPM will contest 43 seats while the Forward Bloc, Communist Party of India ( CPI) and Revolutionary Socialist Party ( RSP) will contest one seat each. Over 28 lakh voters are eligible to cast their votes in the election for the 60-member assembly in the border state.
Tripura is the first state to go to the polls this year. While polling for Nagaland and Meghalaya assemblies will be held on February 27, five more states face elections this year in the run-up to the Lok Sabha elections in 2024.
A total of 259 candidates, including 20 women, are in the fray in Tripura. The counting of votes will be done on March 2. This time Bharatiya Janata Party has fielded 12 women candidates.The BJP which had never won a single seat in Tripura before 2018, stormed to power in the last election in alliance with IPFT and had ousted the Left Front which had been in power in the border state for 35 years since 1978.
BJP won 36 seats in the assembly and got 43.59 per cent of the votes in the 2018 election. The CPI (M) won 16 seats with a 42.22 per cent vote share. The IPFT won eight seats and Congress could not open its account.
The BJP is exuding confidence that it will improve its performance. Party's top leaders including Prime Minister Narendra Modi, Home Minister Amit Shah, Defence Minister Rajnath Singh and party chief JP Nadda campaigned in the state.
Apart from national leaders, the star campaigners, Chief Ministers of Assam and Uttar Pradesh, Himanta Biswa Sarma and Yogi Adiyanath respectively also campaigned in Tripura. On the other hand, CPI(M) general secretary Sitaram Yechury, and senior party leaders Brinda Karat, Prakash Karat, Mohammad Salim and former Chief Minister Manik Sarkar campaigned for the party in Tripura.
Congress campaigners included party leader Adhir Ranjan Chowdhury, Dipa Dasmunshi and Ajoy Kumar. However, Rahul Gandhi and Priyanka Gandhi Vadra did not campaign in the state.
The CPI-M-led Left Front ruled the state for nearly four decades, with a gap between 1988 and 1993, when the Congress was in power but now both the parties joined hand with an intention to oust BJP from power.
Tipra Motha, which has raised demand for Greater Tipraland, could upset the calculations of both BJP and Left-Congress alliance. Tipra Motha, chaired by Tripura royal scion Pradyot Bikram Manikya Debbarma, is contesting at 42 seats.
Meanwhile, Trinamool Congress may act as a spoiler as it is contesting 28 seats and 58 independent candidates are also trying out their luck. Chief Minister Manik Saha is contesting the polls from Town Borodowali. Congress has fielded Ashish Kumar Saha against him. Manik Saha replaced Biplab Kumar Deb as chief minister in May last year.
Deputy Chief Minister Jishnu Dev Varma is contesting from Charilam seat. Tripura BJP state president Rajiv Bhattacharjee is contesting from the Banamalipur constituency. Biplab Deb earlier represented the seat. CPI(M) state general secretary Jitendra Choudhury is contesting from the Sabroom constituency.
The BJP has fielded Union Minister Pratima Bhoumik from the Dhanpur constituency. Bhoumik is the first woman from Tripura to become a Union minister. Tipra Motha has fielded Amiya Dayal Noatia against Bhoumik in the seat.
BJP has fielded sitting MLA Pranajit Singh Roy from the Radhakishorpur constituency. He is pitted against CPI-ML's Partha Karmakar.
BJP's Papiya Dutta will face Congress candidate Sudip Roy Barman in Agartala. In Karbook, CPI(M) candidate Priyamani Debbarma is contesting against BJP's Ashim Tripura and Tipra Motha's Sanjay Manik.
In the run-up to the elections, Chief Minister Manik Saha said that the demand for a "Greater Tipraland" is not possible as Tripa Motha Party is not able to define the boundary.
"Greater Tipraland, we have heard this name before also. In every Assembly election, some or other slogans like Tipraland are created and after every 5 years, new local parties emerge and raise such slogans. I have repeatedly asked where is the boundary, sometimes they say that Greater Tipraland is in Bangladesh, and sometimes they say that there are some parts of Assam and Mizoram too. This means they are in a fix. What exactly they are trying to say and want to say, we are not able to understand anything. When we talk about this matter, they say it is linguistic culturally, they are not able to define or describe properly," Saha said during an exclusive interview with the ANI, on the demand of Greater Tipraland.
He had also termed the democratic ouster of the Left Front government in Tripura in the last assembly polls by the BJP as "historic" and something "that has barely happened in India's history".
"It's a history that after 35 years of rule, BJP removed the Communist government here in a democratic way…It has barely happened in India's history," he said.
"Communists committed murders and violence here, so it is important that they do not return to power as violence cannot lead to development. Numerous people had to sacrifice their lives. All of us are very concerned," Saha added. BJP in its manifesto promised welfare proposals such as special canteen meals to the poor three times a day at Rs 5 each, a Balika Samridddhi bond of Rs 50,000 to each underprivileged family on the birth of a girl child and scooters for meritorious college girls.
The manifesto also promises smartphones to 50,000 meritorious students, two free LPG cylinders to all beneficiaries of the Pradhan Mantri Ujjwala Yojana, land deeds to those without any holdings, and an annual payout of Rs 3,000 to all landless farmers.
The counting of votes will take place on March 2, coinciding with the date of the Meghalaya and Nagaland Assembly polls results. (ANI)