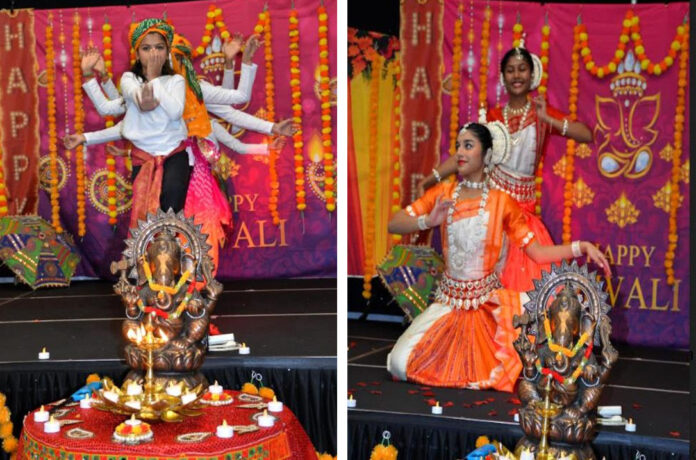 India Post News Service
CHICAGO:  Sundarkand Parivaar Chicago hosted its third annual Deepawali Milan event at the  Mall of India in Naperville. A Chicago suburb.  The event garnered an overwhelming response from the elite Indian diaspora in Chicagoland, who were treated to an aculturally immersive celebration of the festival of lights.
The evening commenced with a  welcome from  Sanjay Sharma, Founding Member of Sundarkand Chicago Parivaar. He highlighted the significance of Deepawali. Guests including Ms. Mary Alexander Basta, Mayor of Boling brook and Sanjeev Kumar Pal  Indian Consul) and they were honored with their presence. Representatives from the event's sponsors were also recognized and presented with mementos and Dupattas.
The Deep Lighting ceremony marked the commencement of an enchanting evening, with Mary Alexander Basta emphasizing the importance of compassion, love, and unity in today's world.  Sanjeev Kumar Pal commended Sundarkand Parivaar for their efforts in showcasing Indian culture and instilling Indian values in children.

The cultural program unfolded with Ganesh Vandana followed by captivating performances that showcased the richness and diversity of Indian heritage. The dancers from Nritya Natya Dance Academy enthralled the audience with their execution of classical and folk dance forms, leaving them spellbound. An enchanting Odissi dance titled "Sujan Jeevan" transported the audience to the mystical world of the Mahabharata, while Bollywood dance numbers presented by "Grooving Moms" and "Motion and Waves" added a contemporary flair to the event.
The spotlight then shifted to the next generation of performers, who stole the hearts of the audience with their talent and enthusiasm.. A mesmerizing Krishna Leela performance directed by Prerna Awasthi brought to life the playful antics of Lord Krishna, while a soul-stirring clarinet performance by Vinesh Srivastava added a  musical element to the evening.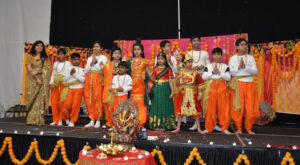 The young dancers of Sundarkand Parivaar delivered a  dance performance set to the revered "Hanuman Chalisa," a devotional hymn dedicated to Lord Hanuman Additionally, the students of Brahmcharya Vedic School presented a Ganesh Aarthi, and a Sanskrit Natika, a theatrical performance in the ancient language of Sanskrit, added an air of exclusivity and cultural authenticity to the event. The children's performances were met with standing ovations
Sanjay Sharma, with his recitation of the poem, further elevated the atmosphere of the event. In conclusion, the exclusive Deepawali Milan event was a success,
For more information about Sunderkand Parivaar Chicago and its exclusive cultural events, please become a member of the WhatsApp group "Sundarkand Chicago" or contact Shri Sanjay Sharma at +1 (224) 612-0940.