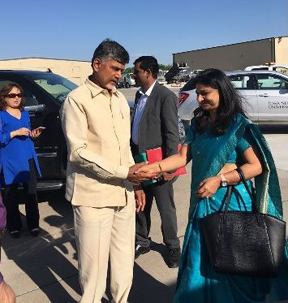 DES MOINES, IW: A high level delegation led by Andhra Pradesh Chief Minister N. Chandrababu Naidu visited Des Moines, Iowa on Sunday, May 7.
The delegation comprised Y. Ramakrishnudu, Finance Minister of Andhra Pradesh and other senior officials of the Government. Consul General of India Ms. Neeta Bhushan, and Consul D.B. Bhati, Consul, joined the delegation from the Indian Consulate Chicago.
During the visit, a Memorandum of Cooperation (MoC) in the field of agriculture between the Andhra Pradesh government and the Iowa Department of Agriculture and Land Stewardship was signed in the presence of CM N. Chandrababu Naidu, Indian CG Neeta Bhushan and the accompanying delegation in Des Moine. The Chief Minister was welcomed at the Des Moines airport by CG Ms. Neeta Bhushan.
The Chief Minister also visited the World Food Prize Foundation where he was welcomed by Ambassador Kenneth M. Quinn, President of World Food Foundation, Bill Northy, Secretary of Agriculture, Iowa and Craig Hill, Director of World Food Prize Foundation.
Signaling the importance the Chief Minister attaches to the agricultural sector in the state, the delegation also visited Seed Research Center at Iowa State University. The delegation also visited the horticulture farms to study the best practices followed there.
Referring to the signing of the MoC, Chief Minister Naidu said it would help in increasing seed production and research, leading to increase in crop output. He informed the gathering about the farm producers' organizations and water users association established in Andhra Pradesh.
He stated that Andhra Pradesh is adopting a number of best practices from seeds to cultivation practices to storage and post-production processes. He said he was delighted to have this MoC in place. He also complimented the work being done by the World Food Prize Foundation.
CM Naidu also addressed a gathering of Telugu community at Des Moines. He appreciated the contribution being made by them towards development of the state of Andhra Pradesh and for promoting the values and culture of India in the United States as well.
India Post News Service