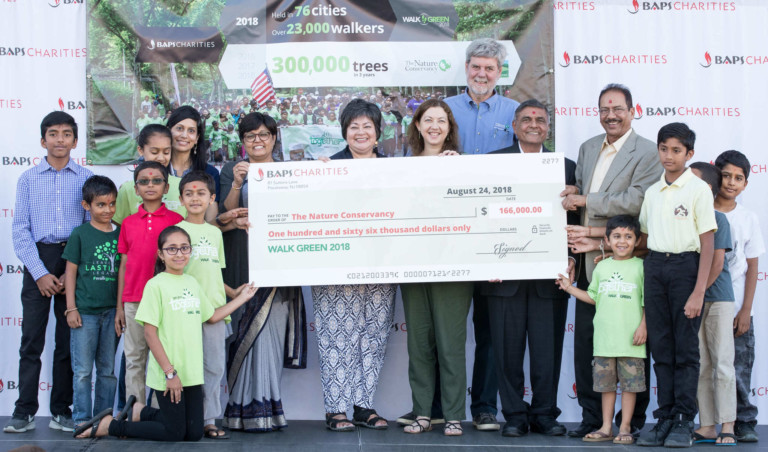 India Post News Service
CHINO HILLS, CA: BAPS   Charities celebrated a three-year partnership with The   Nature   Conservancy (TNC) through its Walk Green initiative, a series of walkathons across North America. Beginning in 2016, BAPS Charities coordinated efforts with TNC to raise funds for the Plant a Billion Trees initiative, and on August 24, it presented the final gift of $166,000 to TNC executives and program leadership in Chino Hills, California.
BAPS Charities volunteers and donors provided a total of 300,000 trees to TNC, made possible by $431,000 in total funds raised over three years by 23,000 walkers at 76 cities across the nation. TNC staff and leaders attended several of these walks, educating walkers about the importance of environmental protection and the urgent need for all people to become active stewards of the environment.
BAPS Charities volunteers and Board members presented The Nature Conservancy's Chris Topik, Director of Plant a Billion Trees; Maria Fisher, Donor Stewardship Officer; and Erin Daly, Donor Relations Manager with the check which was followed by a tree-planting ceremony."Tree planting and reforestation are the most rewarding ways to improve wildlife habitats and cities,  foster clean and abundant waters,  and  mitigate carbon emissions that cause climate change," Chris noted during his visit to Chino Hills.
"Thanks to the contribution of BAPS Charities volunteers we've been able to replant longleaf pine trees in the southern  U.S.,  which have a natural resilience to catastrophic storms, but only 3% of this once common forest-type remains. Your support also planted thousands of shortleaf pine trees in the Mississippi Alluvial Valley where the land has witnessed mass deforestation due to agricultural overdevelopment.  These  newly planted  trees  create  opportunities  for  carbon  sequestration  and  improve  lives, he said."
Erin  Daly participated in the event for her third year in a row and remarked, "BAPS Charities volunteers have  engaged  the  next  generation  of  children  and  young  people  in  passionate  ownership  of environmental stewardship, unlike any other organization I have seen."
"Participating in the BAPS Charities Walkathon is a tradition for my family, Walk Green is a focused effort to make a measurable impact in the world.  Every year we come together and use the opportunity to support the causes that BAPS Charities carefully selects," said19-year-old Rucha Modi.