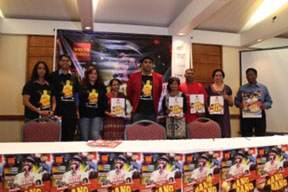 SAN JOSE, CA: GiG Gurus, Llc, an event management company based out of the San Francisco Bay Area, has officially launched and announced its first Bollywood event with singer Benny Dayal.
The 'Bang Bang' concert will feature Benny Dayal and his band FunktuaTion live for the very first time in the Bay Area, California. Benny will be accompanied by the talented vocalist Shakthisree Gopalan of Nenjukulle fame. This Diwali extravaganza will be held on November 13 at 8 pm at the Jubilee Center, San Jose.
GiGGurus is a brand new events-initiative of Media Mahima along with a few like-minded organizations, who have come together to put together entertaining "gigs" for the South Asian community.
Commenting on the concert Kavita S, one of the founding members of Gig Gurus said, "Benny is an exceptionally talented singer. The Bang Bang event is not a typical Bollywood concert. It is an entire entertainment package. We are the only concert with a dedicated dance floor for our patrons.
Anju Desai of the Sankara Eye Foundation remarked that this was the only concert that identified three different organizations, one in the local service sector (Community Seva), one working with families and children (Jeena) and one in the healthcare area (Sankara Eye Foundation). It will donate generously from each ticket sale, living up to the benevolent nature of the late Mahima ji. That is the Biggest Difference", she said complimenting Gig Gurus, the organizers.
At the launch meet some of the esteemed founding members of Gig Gurus including Rakhi Israni and Nitesh Singh of Excel Test Prep were present and vouched their support for this novel initiative.
Gig Gurus and Media Mahima also introduced to the press the beneficiary partners of the event – Sankara Eye Foundation, Community Seva and Jeena.
Each Seva Beneficiary will receive $10 per ticket for every ticket that is purchased from the website www.giggurus.events with the unique "seva code" provided to each of the organizations.
Each of the beneficiary partner has the potential of selling up to 2000 tickets and the possibility to raise $20,000 for their respective causes via the promotion of ticket sales with the use of their assigned SEVA codes.
Speaking at the event, Kishan S, one of the founding members of Gig Gurus said, "There is no competition between the beneficiary partners. It is for the entire community and we want to give back the entire $20,000 towards the community."
Echoing his sentiments Nathan Ganeshan. Founder & President of Community Seva said, "10$ is a very healthy amount, it can help us feed two hungry bellies. Please help us grow and support our community."
Media Mahima is a leading San Francisco-based media house focusing on "Funformational" (Fun and Information) programming for the South Asian Community. Media Mahima produces programs in several Indian languages for the Radio Dehotties Network which airs exclusively in the San Francisco Bay Area on DESI 1170 AM; the longest-running and most popular 24X7 radio station in the Bay Area.
Benny is the recipient of the prestigious Filmfare RD Burman Award for New Music Talent Award. The singer got his first break when he sang for Oscar award winning music director A.R. Rahman for a Tamil movie. Benny Dayal has sung in various languages such as Hindi, Tamil, Telugu among others.
Benny is widely popular for hit songs such as "Pappu Can't Dance", "Bang Bang", "Locha E Ulfat", "Ek Mein Hoon… Au Ek Tu", "Kaise Mujhe Tum Mil Gayi…" "Rehna Tu…" "Badtameez Dil" amongst many others. Benny has worked with some of the top music directors of the industry like A R Rahman, Shankar-Ehsaan-Loy, Vishal-Shekhar, Pritam, Amit Trivedi among others.
Benny was born and raised in Abu Dhabi where he completed his schooling. He went on to complete his B.Com from Madras Christian College. Benny's band FunktuaTion is known for its unique funkrock style and have performed live all over India and in several countries outside of India. This, "Bang Bang" concert, however, will be their first GiG in the USA.
Shakthisree is a vocalist and also has her own band 'Off The Record.' She has been the backing vocalist for many A.R. Rahman songs before the music director gave her a break in Nenjukulle for the movie, Kadal. She is a two-time winner of the prestigious FilmFare Award for Best Playback Singer (Tamil).
India Post News Service