India Post News Service
CHICAGO: Blossoming at the nexus of tradition and innovation, where soul and technique feed into one another in pursuit of an ecstatic oneness, the music of Debashish Bhattacharya has astonished and moved listeners since he first unveiled his unprecedented concept of Hindustani slide guitar in the late 1970s.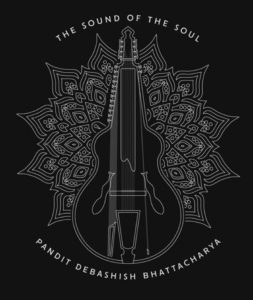 As a young man, Bhattacharya fused his love of Hawaiian steel guitar with his family's deep roots in traditional Indian music, discovering that slide guitar techniques are ideally suited to the microtonal inflections and disarmingly vocal-like melodic cadences of Hindustani forms. In the process, he created an entirely new instrumental tradition – leading the way with such virtuosity, sensitivity, and imagination that global music pioneer John McLaughlin proclaimed that "Debashish is the master of the slide guitar. He has no equal."
Bhattacharya's latest recording, The Sound of the Soul (available on January 24, 2023 via Abstract Logix), is a tribute to another pioneer of Hindustani music, sarod virtuoso Ustad Ali Akbar Khan – whose 100th birthday was marked in April of 2022. Built around the powerfully focused and absorbing "To His Lotus Feet," which encompasses a vast range of textures over nearly 40 minutes, The Sound of Soul features Bhattacharya on his self-designed chaturangui in duet with percussionists Padmashree Pandit Swapan Chaudhuri (tabla) or Pandit Akhilesh Gundechha (pakhawaj).
The Chaturangui is a six-string hollow-neck lap steel with the addition of three sets of strings: two drone strings on the bass side of the 6 main melody strings, two rhythm strings on the treble side, and 14 resonating strings on the bass side. With this configuration, the Chaturangui traverses the traditions of East to West and West to East; a journey emanating directly from Hawaiian to Western music, ultimately forging a bond between Indian traditional raga music and contemporary traditions in Europe and North America. The sparse setting of just guitar and percussion allows for careful examination of Bhattacharya's awe-inspiring technique, whether essaying gracefully static alap-like stillness or surging through, thrilling up-tempo passages that showcase the jaw-dropping clarity and precision of his playing.
Open-minded Western listeners will delight in hearing Bhattacharya on his own, perhaps having experienced him as a part of McLaughlin's Remember Shakti band (as heard on the 2001 live album Remember Shakti – Saturday Night in Bombay). Bhattacharya has also been featured in collaborations with bluegrass Dobro icon Jerry Douglas, electric slide master Derek Trucks, eclectic American roots multi-instrumentalist Bob Brozman, avant-garde guitarist Henry Kaiser, British guitarist Martin Simpson, or African kora virtuoso Ballake Sissoko. He has twice been nominated for Grammy awards, and is also an active teacher and instrument designer and manufacturer.
Given the immense scope of his accomplishments, The Sound of the Soul is a compelling reminder of what lies at the core of Bhattacharya's art: A stunning, refreshingly pure document that will delight, intrigue, and inspire both familiar and unfamiliar listeners.