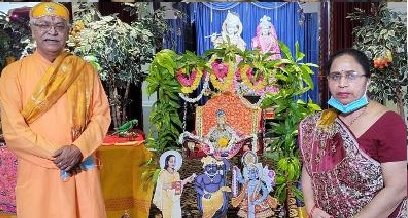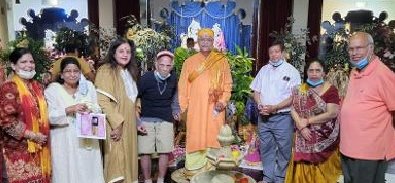 Geetha Patil
CHICAGO: The Hindu Mandir of Lake County, Grayslake, a Chicago suburb celebrated the Jhoola /Hindola Utsav beautifully on Saturday, 24 July 2021 with more than hundred devotees with great devotion participating but followed strictly the Covid-19 regulations given by the State.
Most of the devotees came with their family deities for this event. The temple priest Pt. Anil Joshi appreciated welcoming all the deities with all the Vedic honor and Swagat Mantras at the main entrance. Later, Lord Ganesh and Kalash Pujan were performed. Lord Krishna was given fruit juice Abhishekam, New Dresses and Alakaram. Dwarakanath and Vishwanatha chanted Vedic Mantras.
Rita Patel, Kamalesh Desai and Atul Soni sang Hindola Bhajans, and the whole Mandir was charged with the spiritual vibrancy and energy of the extra special bhakti. Hindola Utsav Nevedyam included various kinds of Sumer fruits and homemade fruit juices in earthen pots on the Banana leaves carpet and decorated with Mango leaves and flowers. Vedic rituals consider the earthen pots and plates, natural grass or bamboo baskets as excellent utensils for Pujas.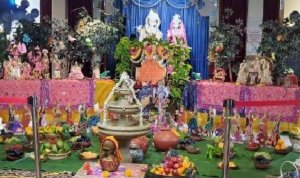 Priest Pt. Joshi in his brief Pravachan/discourse talked about the significance of the event saying that the origin of Hindola Utsav goes back to Dwapar Yuga of around 5000 years ago. Ma Yashoda and Gopis swayed Lord Krishna on a decorated swing and offered homemade juices and fruits to make Him and his friends relaxed, because they came home after grazing cows in the forest in the hot summer time. This event indicates the divine joy of rocking the almighty Lord Krishna for His pleasure.
The back and forth motion symbolizes the desire of getting away from the mundane worries of the worldly life and realizing the eternal bliss. The swinging motion brings in elation and identification with spirituality. During this event, one experiences a serene state of mind and veneration by placing the lustrous Chal (mobile) Murti of Lord Krishna on the Hindola (decorated swing)."
He also encouraged devotees to observe all the Hindu festivals in a traditional Vedic way and understand the logic behind each festival. The rationale of this Hindola Utsav is, "one should offer first fruits or food, or any new things grown or bought to his/her family deity before one consumes or uses them. And be thankful the Lord, the Nature, and the person who grows them with much efforts and love from the bottom of one's heart."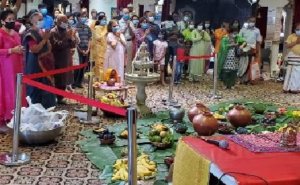 He further explained the logic behind bringing everyone's family deity to temple is not only to make their deities to participate in the Hindola event but also instill in their mind the idea that wherever they go they should take their God's presence with them so that they do not indulge in doing wrong things in life.