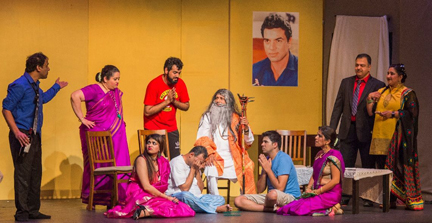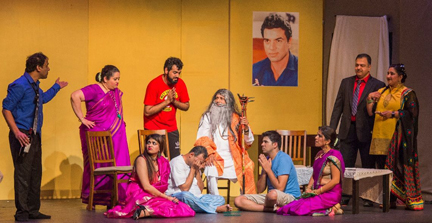 CHICAGO: Cutting Hall Performing Arts Center at Palatine, a northwest suburb of Chicago was jam packed. An excited audience waiting for I-RADHA's Grand Inaugural Show.
I-RADHA (Indian Rhythms, Arts, & Dances Heritage Academy), is founded by Kiran Chouhan in memory of her mother Radha Chouhan and had a formal launch recently in Chicagoland. The Kathak Dance exponent Kiran Chouhan had a passion for spreading Indian fine arts and culture not only amongst the diaspora but the mainstream lovers of arts and culture. The passion translated into reality with the I-RADHA launch and Kiran said that all efforts now would be made to have the mission to keep Indian heritage alive in the traditional way, but also to take it to new heights.
The evening began with a welcome speech by Ms. Chouhan followed by congratulatory video messages from Kathak Maestro legendary Pandit Birju Maharaj, Indian television stars Abhay Bhargav, Kiran Bhargav, Ankita Patel and 'Yeh Mohabbatein' stars Karan Patel, DivyankaTripathi. Since this was a tribute to a mother by her daughter on the eve of Mother's Day,
Ms. Chouhan invited mothers from the audience to light lamps and inaugurate the show which was a heartfelt honor for the mothers.
The first half of the evening consisted of a comedy Hindi drama which was written by Radha Chouhan and directed by Kiran Chouhan. This hilarious, well-enacted comedy had the audience in splits. The cast consisted of Manoj Bhargaw, Ulka Nagarkar, Girish Sadhwani, Aniket Bhutada, Sachin Lal, Puja Jani, Ashish Nagarkar, Nidhi Sharma, Rashmi Narsana and Kam Gupta. Everyone did a fabulous job.
The second half of the evening showcased a Bollywood dance presentation which began with 'Om Shivohum', an invocation to Lord Shiva.This visually amazing presentation was presented by Sachin Lal, Rengesh Hariharan, Suman Mothukula, and Kranthi Golamari. Through the evening the audience was entertained with popular Bollywood songs set to unique and artistic choreography.
The songs were thoughtfully selected to showcase various genres of Bollywood music – Mere Dholna, Na Sikha Maine Jeena Jeena, Dhoom Again and many more. Special attention was given to the costumes which were specially ordered from India. The I-RADHA team of talented dancers consisted of: Medha Bhargaw, Shiwali Varshney, Kam Gupta, Smita Jaisalmeria, Shivani Anand, Suchita Kuppanda, Seema Atre, Sunita Chauhan, Hema Makwana, Sonal Swapnil, Madhvi Verma, Kunjan Rai, Sujata Abhichandani, Kruti Rai, Neha Somwanshi, Arya Jha, Bella Patadia, Emma Patel, Jiya Makwana, Kareena Patel, Krishna Hingu, Nahla Mokkath, Sonia M. Solanki, Suhani Rai, Tanisha Mathur and Tanvi Mathur.
I-RADHA has two teaching centers in Chicagoland area. Currently it is offering Bollywood dance classes and acting classes. In the near future the plan is to add more dance and music forms,Yoga, and Hindi language classes.
I-RADHA also plans to periodically host workshops by senior classical and Bollywood artists for the benefit of its students.
Ramesh Soparawala
India Post News Service