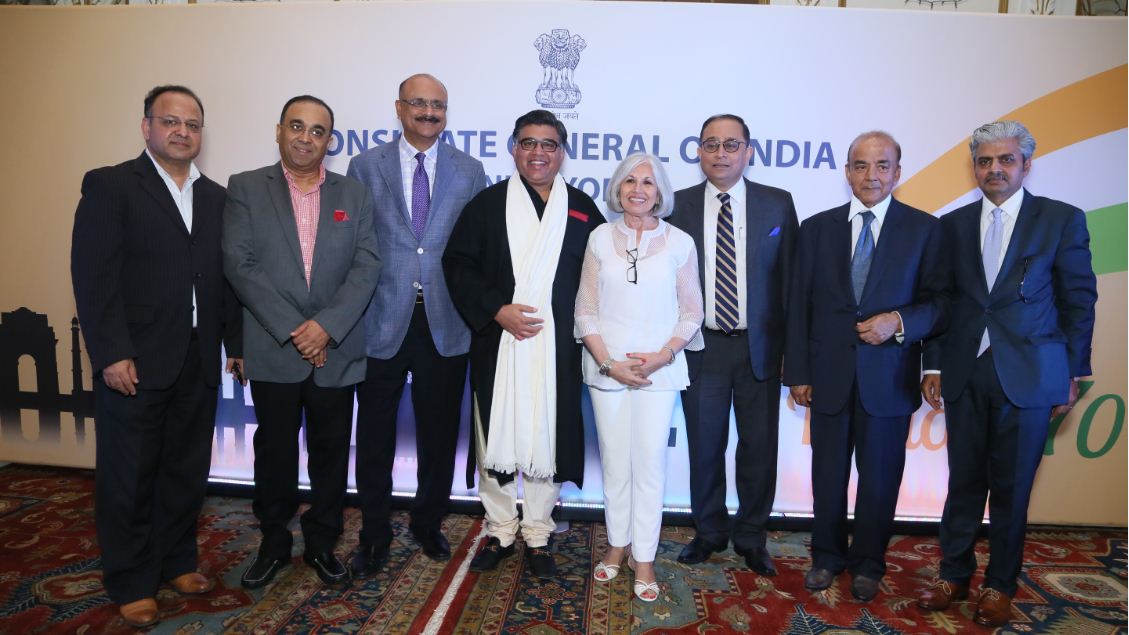 India Post News Service
NEW YORK: The Indo-American Arts Council (IAAC) has appointed Dr. Nirmal Mattoo as its new Chairman. He replaces Aroon Shivdasani who has retired after 20 years of glorious service. Shivdasani will continue as Brand Evangelist Advisor.
The IAAC board said that Dr. Mattoo's background as a philanthropist supporter of the arts and artists, educator, author, humanitarian doctor and successful businessman with a strong track record of building non-profit centers of excellence made him uniquely qualified to head and lead a precious asset of the Indo American community.
The announcement was made at a gala gathering at the Indian Consulate in New York on July 30, attended by over 160 people from the arts, media and Indo American community. Consul General Ambassador Sandeep Chakravorty welcomed the IAAC members.
The IAAC Board thanked Aroon Shivdasani for her exemplary sacrifices and contributions over the course of a lifetime in founding and building IAAC to the point that it is the premier art and cultural organization of the Indo American community. The existing Board members and advisors have also retired, and their services were acknowledged with gratitude. They will all however continue to serve IAAC as volunteers.

Dr. Mattoo stated, "Aroon has been a trailblazer in fostering the arts and the artist community in a non-judgmental, nurturing manner that has inspired love, understanding, pride and joy. Her pioneering effort has resulted in a vibrant week-long film festival, a stimulating book festival, ecstatic dance and music festivals, an art festival and much, much more. She has built a supportive group of patrons that exceeds 64,000 in the Tri State area which is an outstanding accomplishment. Many cultural organizations across America have been incubated by Aroon by interning those who wanted to emulate her creation."
Aroon Shivdasani said, "The IAAC Board had a choice among many parties who wanted to take responsibility for IAAC but concluded that nobody else could match the fiduciary spirit that Dr. Mattoo would bring to the IAAC mission and in taking it to the next level. I am truly fortunate that IAAC brand has generated such a positive response over the years from the community. I thank my key team members Aseem Chhabra, Ramneek Kang, Nili Lakhani, Rohan Gupta, Monty Kataria, Abhi Chintakunta, Suman Gollamudi and the hundreds of volunteers who joined me in this cause."
Ambassador Chakravorty presented Aroon Shivdasani with an award plaque and also a shawl in recognition of her services. He stressed the importance of propagating Indian arts. Dr. Mattoo also presented Aroon with a plaque on behalf of IAAC.
Dr. Mattoo announced the appointment of the new Executive Director of IAAC, Sunil Hali, as also incoming Vice Chairman of the Board, Rakesh Kaul, Board Members Anil Bansal, Anurag Harshand, Rajeev Kaul while Professor S. Sridhar, Yakub Mathew andGaurav Verma join the Advisory Board.
Sunil Hali announced that IAAC's very first event will be a literary meet with noted author Ramchandra Guha on October 2 followed by a grand music festival featuring the world famous Ustad Amjad Ali Khan and his sons Amaan Ali Khan and Ayaan Ali Khan, at the Zankel at Carnegie Hall. The always exciting New York Indian Film Festival will be held from May 7 to May 12, 2019.