VIDYA SETHURAMAN
India Post News Service
MILPITAS, California: As part of India's initiative to develop a country-wide robust and progressive start-up ecosystem, the Department for Promotion of Industry and Internal Trade (DPIIT) of the government of India, a delegation of senior government officials from 10 Indian states and union territories (at the levels of chief secretary, principal secretary and director) visited the Silicon Valley to learn best practices in supporting entrepreneurship from TiE Silicon Valley chapter September 30 at India Community Center, Milpitas.
The event was hosted by Consul General of India in San Francisco, Sanjay Panda and TiE Silicon Valley President B.J. Arun. Speaking at the event, Consul General Panda said the relationship between India and the US is better than ever before.
"India is going to be an important player in the world's growth engine, trade between India and the US is robust," he said. He said that India is a good investment choice because it has one of the youngest populations in the world."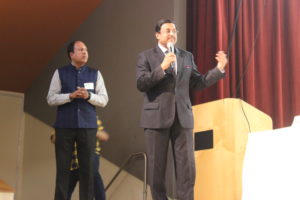 Panda further said that there is a possibility to take India-US trade to newer heights in future from the present $142 billion.
Stating that the Indian start-up economy is getting bigger, he said that the government has given strong emphasis to boost innovation and incubation during the last five years even as programs like Atal Innovation Mission, PM Research Fellowships and Start-up India mission are the "foundation of a 21st century India, an India that promotes a culture of innovation".
Representatives from Assam, Chandigarh, Goa, Jammu and Kashmir, Odisha, Puducherry, Punjab and Uttarakhand spoke at length on the benefits of investing in their respective states and what makes these the preferred destinations for foreign investors.
India is one of the fastest growing economies in the world, with rapidly growing internet penetration, burgeoning middle class, and a large young population. This has led to increased demand for consumption categories as well as establishing vibrant a ecosystem for start-ups and VC industries.
Each of the representatives explained on the ease of starting a business in their respective states and the subsidies offered.
India's coveted start-up club of unicorns – firms valued at $1 billion or more – is growing faster than ever. The year 2019 alone has produced over half a dozen unicorns so far.
The Indian start-up ecosystem is led by unicorns like OYO, Paytm, Zomato, Byju's, Ola, Udaan, Freshworks, InMobi, and Swiggy.while the majority backers to these companies have been SoftBank, Alibaba, Tencent, Sequoia, Tiger Global and DST Global.
India occupies the fourth position globally in terms of the number of 'unicorns' present in the country with the US taking the top spot.