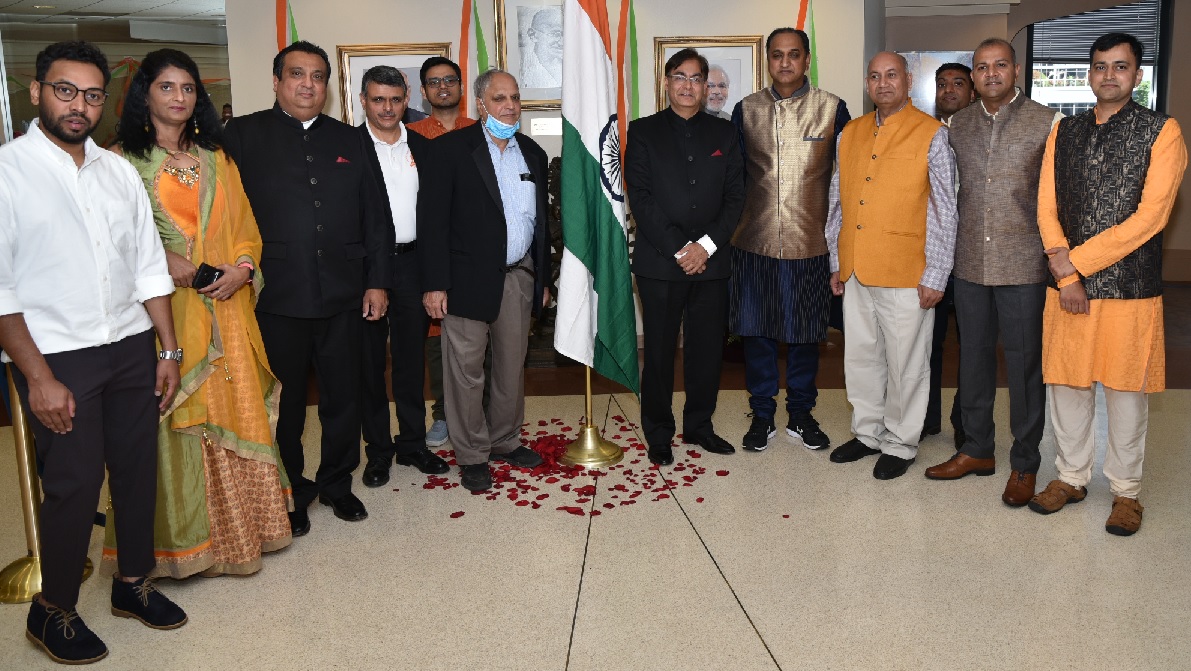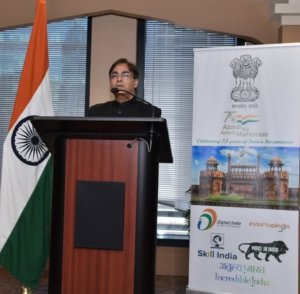 Surendra Ullal and Ramesh Soparawala
CHICAGO: The Indian Consulate in Chicago and members of Indian community affiliated to a host of community organizations celebrated 75th Independence Day of India at the Consulate premises and across the Chicagoland.
The main event of the Indian Consulate was organized at the Consulate premises, where Consul General (CG) Amit Kumar unfurled the Tricolor, which was followed by National Anthem. CG then read out the Address of the President of India.
In his remarks, the Consul General said the Indian diaspora is a living bridge between our two great countries and has contributed immensely to the growth of our relations. The India-US strategic partnership is wide-ranging and dynamic. The two countries are cooperating and working together in areas of public health, outer space, energy security, renewable energy, climate change, emerging technologies, knowledge-based partnerships – higher education, S&T, start-ups and innovation, and of course seeking greater coordination and convergences in the traditional areas of security, defense and strategic affairs.
A short cultural program included singing of patriotic songs by the children of Sadhana Music School and Kathak classical dance performance by the students of I-Radha Dance School.
The Consulate received Messages of proclamation from Mayor of City of Chicago Lori Lightfoot and messages of greetings from several elected US federal and state representatives that included Senators Gary Peters, Tammy Baldvin, Congressman Mark Pocan, and Congresswoman Haley Stevens.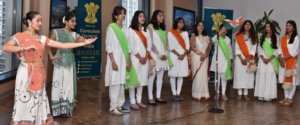 Prominent members of Indo-American community including representatives of various socio-cultural organizations, members of the business community and others also expressed their felicitations.
As the Azadi Ka Amrit Mahotsav is aimed to be a citizen campaign, the Consulate actively collaborated/participated in various programs organized by the Indian American community and friends of India, which included India Day Parade at Naperville organized by Indian Community Outreach (ICO), on August 8 Independence Day event by Federation of India Chicago-80 on 13 August; Independence Day event by Federation of India on 13 August; Flag Hoisting at Daley Plaza by National Council of Asian Indian Associations (NCAIA) on 15 August; India's Independence Day Parade and celebration on Devon Street organized by Federation of India Chicago-80, on 15 August.
In the run up to the Independence Day celebrations, there was enthusiastic participation from US in the Rashtragaan initiative, with Indians and friends of India joining actively. A series of events will be held in US in coming months to celebrate Azadi Ka Amrit Mahotsav, marking seventy-five years of India's independence.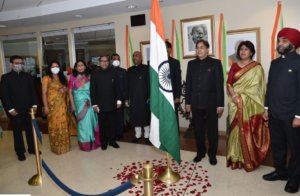 The Consulate also organized an Independence Day reception on August 16 at prestigious Chicago Cultural Centre. This event was done jointly with participation of elected representatives, senior Government officials, local dignitaries and members of Indian American community.