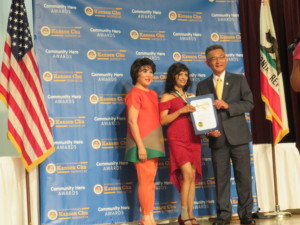 Lakshmi Iyer
India Post News Service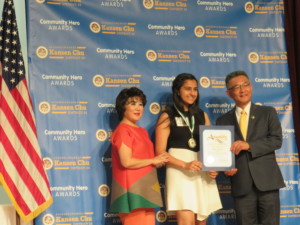 MILPITAS, CA: There were teachers, firefighters, healthcare providers who organized free health fairs, organizations helping victims of domestic violence, the homeless and other sectors of society, war veterans, youth sports coaches and even a team, life coaches, authors and entrepreneurs, politicians, artists and champions of the arts, environmentalists, young and old, male and female, with varying racial heritages – Caucasian, African American, Asian (Vietnamese, Chinese, Japanese, Indian), Hispanic.
Ordinary people. People like you and me. Yet, these are heroes. Every year, the Honorable Mr. Kansen Chu, California State Legislature Assembly member – District 25, organizes an event honoring Community Heroes. His office seeks nominations from residents in the cities of Fremont, Milpitas, Newark, San Jose and Santa Clara for people who are doing good work to serve their communities. These nominees are awarded with certificates in a public ceremony.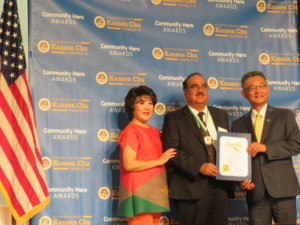 This year, the venue was the India Community Center (ICC), Milpitas on Thursday, July 12. Kansen Chu and his wife, Daisy Chu, honored over 72 nominees (individuals and groups).
Quite a few Indian Americans made the list. Among the first awardees were the Godhwani family members, Anil, Gopi and Gautam Godhwani, who were instrumental in founding ICC.
Here are some other Indian American honorees: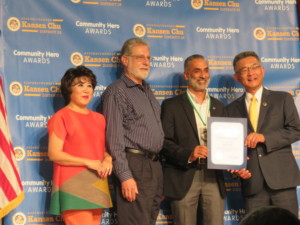 Anita Kumari Srivastava – the Founder and Chief Strategist at Happiness Factors, LLC. Ms. Srivastava has written a book on finding happiness despite life's challenges, which is available on Amazon.com ("Find Your Happy"). She is an award winning poet and coach and provides
inspirational keynotes, trainings and one-on-one sessions.
Anjali Sadarangani, a high school senior, launched Building Brains, a non-profit organization that offers underprivileged kids the opportunity to learn about neuroscience and brain health.
Leela Mathur, Co-Founder of the Fremont Hindu Temple and a community volunteer, has helped with the starting of the Federation of Indian Associations parade in its early years, and was involved with the Jaipur-Fremont Sister City Commission.
Jeevan Zutshi – Founder of the Indo-American Community Foundation, an advocate for improving the reporting of hate crimes and better Indo-US relations
Nira Singh is the Director of Behavioral Health at Asian Americans for Community Involvement.
Raj Chahal, a Planning Commissioner in the City of Santa Clara, has served on several other commissions and boards and helped start the first Sikh Boy Scout Troop in the United States.
Riana Grewal, a junior at Santa Clara High School, is very active in Youth Commissions and is a member on the School Site Council at her school and a leader with the girl Scouts.
Raj Salwan is Council member in the City of Fremont.
Ram Saroay runs the website and newspaper for the Ambedkar Times and dedicates time and effort to carry on the social justice work of Dr. B R Ambedkar.
Reena Rao is the Bureau Head at TV Asia, the first Indian American network in the United States. She is Co-Founder of the Cupertino-Bhubaneswar Sister City Initiative and serves on other local boards.
Maitri is a non-profit that helps victims and survivors of domestic violence and human trafficking, particularly in the South Asian community.
The huge gathering of guests cheered the awardees and everyone left with smiles and hope in a world that is too often steeped in despair over bad news.