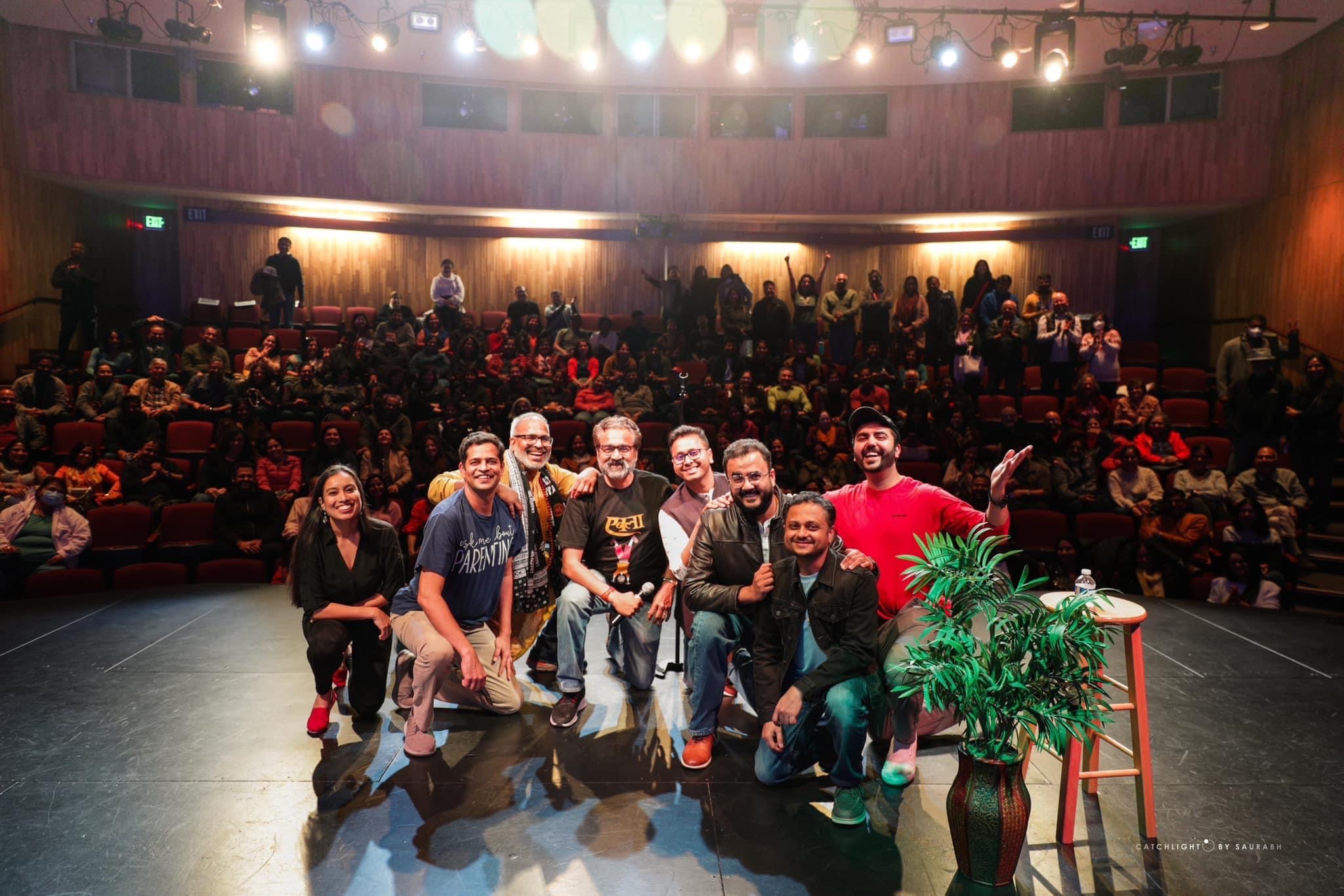 Archana Asthana
Picture Credits: SAURABH MALVIYA
Masala Comedy Club was founded in 2019 by a group of four actors and comedy enthusiasts bringing their talents to tickle our funny bone. What sets them apart is the focus to bring NRI humor to the desi audience, who can laugh at situations relating to the homeland. An impressive lineup of eight comedians in 15-minute slots provided merriment to a receptive audience on varied topics in Sunnyvale Theater over the last couple of weekends.
Rajiv Nema, the host did not spare the audience as the target of his jokes aimed at historic regional differences within India and bared the perpetual lateness of Bombayites, the non-understanding of Hindi by South Indians, and the miserliness of Gujaratis.
The comedians formed a diverse collection with regional Indian flavors and the show debuted with Aditya Mahajan from South Delhi, who expanded on the misconception of the legendary arrogance and ignorance associated with Delhiites, even though they consider themselves the smartest, wealthiest, and most accomplished!
Snehal Pachigar from South Bombay shared his experiences as a beginner skier with the unintended consequences of his bravado. The audience roared with laughter at his kinesthetic narrative of the introductory lesson with "pizza" and "fries" (the stop-and-go feet positions for downhill skiing), and his unintentional skiing down the black diamond slopes…all in an effort to impress a girl.
Shiv Jayraman from Chennai, claimed himself as the diversity inclusion and lamented the parenting skills and helicoptering tendencies of Indian parents, young and old, and gross exaggerations of their offsprings' achievements.
The only woman in the mix, Neha Goyal from Chandigarh discussed life as an only child with a name shared with half her classmates. To rectify that, she named her child rather uniquely…only to find out other parents of her generation had the same idea!
The Nashik native, Abhay Paranjape confessed to turning 40 this year and going through a mid life crisis of "uncle-iyat"…a made up moniker for behaving like a typical "uncleji"…a phenomenon mostly associated with holding forth on all topics under the sun to an uninterested younger audience.
Ashok Vijay challenged the audience to keep up with his command of pure Hindi as spoken in Jhansi, UP while ruing the total lack of sex education for men growing up in India, who therefore resort to stealth ways of procuring said knowledge, often inaccurately!
The tech jokes could not be far behind, so Ritwik Verma from Ranchi, Bihar kept up a commentary on Indian weddings taking place on Zoom in the recent past. Now that Zooming has become a universal experience, nods and grins were seen when he shared how the pandit ji had tech issues during the most critical mantra chanting times during the wedding.
In the final segment, Rajiv Nema from Indore, MP, circles back to tech difficulties when working from home shifts back to India. Much laughter was generated with the sounds and challenges of daily life in India becoming front and center in phone calls with foreign clients, including the bhajiwala's calls for fresh vegetables, the maid's arrival and the water tank overflow!
Bay Area with its large desi population finally enjoys a comedy show where all jokes are understood by the entire audience as evidenced by the non-stop laughter!