Indrajeet Tyagi
Med Learning Group from New York organized their Complementary Live Interactive CMC/CNE Webinar on COVID-19 under their project ECHO, on Wednesday, March 22, 2023, on the topic, "Updating Outpatient Recommendations in COVID-19 Management: Identifying Opportunities for Risk Reduction in Non-Hospitalized Patients." Around 40 medical professional from USA, India, and other countries attended the meeting and participated actively in the interactive portion of the presentation. This activity was co-provided by AMEDCO and supported by an educational grant from Pfizer.
This TeleECHO series was designed to update clinicians who treat patients at risk for and with COVID-19 with the most up-to-date guidelines on the prevention, diagnosis, and management of patients in the outpatient setting. Dr. Christopher Palma, Associate Professor of Medicine University of Rochester, Rochester, NY was the program chair and the co-host. He welcomed all the participants and introduced the presenter, Dr. Shyam Kottilil, Professor of Medicine, Chief Division of Infectious Diseases Institute of Human Virology University of Maryland School of Medicine Baltimore, MD to the audiences. Dr. Kottilil spoke comprehensively on the COVID symptoms and the risk factors such as age, ethnicity, BMI, and comorbidities. He said that in the pre-vaccine data-2020, age was a strong risk factor for severe illness, complications, and death and death rates directly correlated with advanced age. He also talked about challenges in diagnosis through PCR vs rapid testing and which one to use in what situations.
In the second part of his presentation, Dr. Kottilil talked about outpatient treatment of COVID-19 based on the clinical data with ritonavir-boosted nirmatrelvir, including EPIC-HR clinical study results, as well as the results of real-world studies in both vaccinated and unvaccinated patients during the omicron wave. The results of the study showed that Nirmatrelvir + Ritonavir reduced risk for hospitalization or death among outpatients with COVID-19. Another clinical data with remdesivir in outpatient and inpatient use, including PINETREE clinical study showed that early administration of remdesivir prevents progression to severe COVID-19 in outpatients. In the PINETREE study, remdesivir resulted in an 87% lower risk of COVID-related hospitalizations or death compared with placebo and had an acceptable safety profile. It was also observed among the unvaccinated patients, aged ≥12 years were at increased risk for hospitalization and their mean age was 50 years. He presented another clinical data with molnupiravir in the MOVe-OUT study and said that using molnupiravir is recommended for mild-to-moderate symptoms among ≥18 years of age who are at high risk of progression to severe COVID-19, including hospitalization and/or death when other options are not available or clinically appropriate.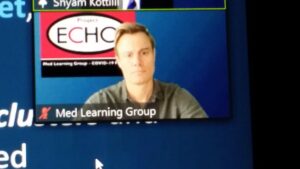 Dr. Kottilil spoke on the current clinical recommendations and investigational therapies that included diagnostic testing and antiviral therapy in patients with mild to moderate COVID-19 and anti-inflammatory therapy in patients with severe to clinical illness. According to Dr. Kottilil, communication with patients about their health conditions and appropriate clinical application of treatment, and preferences is the best practice. Therefore, both patient and healthcare provider (HCP) should work together to make a healthcare decision that is best for the patient. Because studies of Shared Decision-Making (SDM) practice have demonstrated better health outcomes, improved quality of life, increased compliance with treatment regimens, and lower demand for healthcare resources. He further emphasized on integrating telemedicine approaches as a patient assessment tools in practice to determine if in-person evaluation is necessary or outpatient therapy to prescribe.
The exciting part of the presentation was answering the polling questions in between the presentation and quite a few case studies including Q&A at the end of the presentation to check audiences' understanding was also excellent.
Dr. Kottilil concluded his presentation by saying at-home testing for COVID-19 is important for early diagnosis, and older age, increased BMI, and multiple chronic medical conditions, including immunosuppressed status are the risk factors for developing severe disease. Currently, antivirals such as ritonavir/nirmatrelvir, remdesivir, and molnupiravir are the effective drugs for the treatment of COVID 19 outpatients.