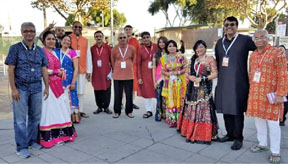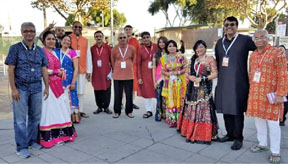 SANTA CLARA, CA: One of the last nights to dance and rejoice for the Navratri festival was held at the Santa Clara county fairgrounds here on October 14 featuring a live group – 'King of Garba' Atul Purohit and his team from Baroda, Gujarat.
Presented by Javanika Entertainment of Bay area, the event was completely sold out and over 3500 of participants enjoyed dancing Raas Garba. Raas or Dandiya Raas is the traditional folk dance form of Gujarat and Rajasthan, India, and is associated with scenes of Holi, and Lila of Krishna and Radha at Vrindavan. Garba is akin to a form of complex, fast-paced line dancing. Dandiya is simpler and involves multiple partners clacking sticks together while dancing.
The whirling dancers, clapping hands, distinct sound of wooden sticks struck together, toe tapping music and people wearing vibrant colorful clothes marked the Navratri celebration at the Garba and Dandiya Raas dances held all over Bay area. This is part of the worship of Durga Mata who symbolizes victory of good over evil. The Navratri celebration marks a festival of nine nights during which Hindus worship goddesses Durga, Lakshmi and Saraswati, the goddesses of health, prosperity and knowledge, respectively.
The living legend, Atul Purohit from Baroda is a world renowned master of Folk music and Garba singer who has redefined the lines of classical music. He has evolved from a kid who identified his own talent in music and moved to Baroda to a storm that has swept the fans of his music off their feet. His classical style mixed with Hindustani, Bhajan and Sufi acted in his favor as he continued to win many more laurels to his name.
His album Tara Vina Sham became a very big hit and propelled him in the rank of the most famous Garba singer of all time. In 1992, Atul Purohit established "The Rutambara Group". It is one of the major attractions at United Way of Vadodara and he has been singing for United Way for the last 18 years. United Way of Vadodara claims to have largest gathering of people at its venue during Navratri.
The event was successful to due extreme hard work from Jagruti Desai and her team from Javanika. She thanked all the sponsors, volunteers, media and patrons for their continuous support.
India Post News Service