Suresh Bodiwala
CHICAGO: There have been dazzlingNavratri celebrations all across Chicagoland and continuing on the rich tradition Vishwa Hindu Parishad of America (VHPA) and Support A Child (SAC) also hosted their Navratri Garba Raas with Rex D Souza and Shivani Shah, on Sunday – October 15, 2022, at Bartlett Park District in Bartlett, a Chicago suburb.
The event attracted hundreds of participants to celebrate Navaratri. The attendees ranged from toddlers to seniors and were dressed in colorful Indian attire with matching ornaments and extravagant hairstyles. The twirling dancers, clapping hands, instinctive sound of wooden sticks struck together, toe-tapping music, and people wearing colorful clothes marked the grand Navratri celebrations at the VHPA and SAC Garba.
The celebration started with the traditional Lamp Lighting ceremony. President Harendra Mangrola said that, "It keeps a part of our rich culture alive. Thanks to the wonderful audience of Chicago and well-wishers who attended the event to make it a huge success," said Vinesh Virani (VHPA Chicago chapter VP). "It was a colorful, cherished event as kids, youth and adults of all ages participated and brought the liveliness around us." said by Nirav Patel (VHPA community outreach).
Shivani Shah started with the Three Taali Garba, "Kum Kum Kera Pagale Madi". She sang the Classical "Raksha Karo Ambe Maa Bhavani". Rex Dsouza continued amazing Garbas in Two Taali. In Raas everybody enjoyed "Disco Dandia". She sang all what the Khelaiys wanted to hear for their dance and continued with Mataji's Arti & Stuti.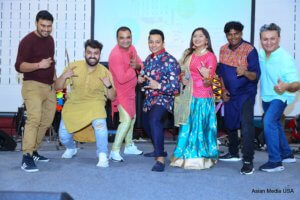 Shivani Shah has done more than 500 Singing Shows. The crowd was really crazy and we as a team enjoyed performing for such a lovely crowd.
Rex Dsouza was one of the three finalists of Fame Gurukul. He won the support of many fans due to his personality and talent, which earned him the title of Mr. Gurukul. Rex Dsouza's infectious smile made the girls go weak in their knees but couldn't make it to the Fame Jodi. But that didn't dampen his spirits a week after Fame Gurukul announced its winners. He has taken it in his stride and is now doing stage shows around the world, along with singing for Bollywood movies. He is here for the love of performing; he enjoys being on stage and it's not his style to be nervous. Performed around the world in more than 1500 shows.
"The crowd in Chicago was amazing, this festival was even more awesome!!! Looking forward to performing before the Chicago crowd again and again. Want to thank VHPA for this opportunity, in which I could also help them raise money for the great cause they have always worked on would love to do this event every year" said by Rex Dsouza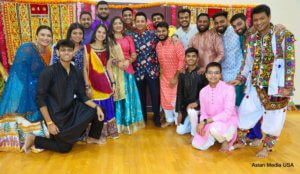 Many volunteers demonstrated well-organized team effort and worked very hard under the leadership of VHPA President, Executive and Advisory board to make this event grand a successHarendra Mangrola (VHPA Chicago Chapter president), Vines Virani (VHPA Chicago chapter VP), Joy Shah (Treasure), Neela Patel (Secretary), Sanjay Shah (Event chair), Nimisha Patel (Event chair)
Amitabh Mittal (Joint secretary VHPA), Nirav Patel (VHPA community outreach), Anisha shah (Event chair), Radhika Jain (Bal Vihar chair), Nitin Surti, Chirag Chavda, Harmil Patel (KPS president), Prakash bhai, Dr. Shyamkant Seth, Rakesh Malhotra, Krishana Bansal, Vandana Jhingan and Ganesh Kar.
The Garba program ended with an Arti around 12:30 p.m. followed by Prasad distribution.