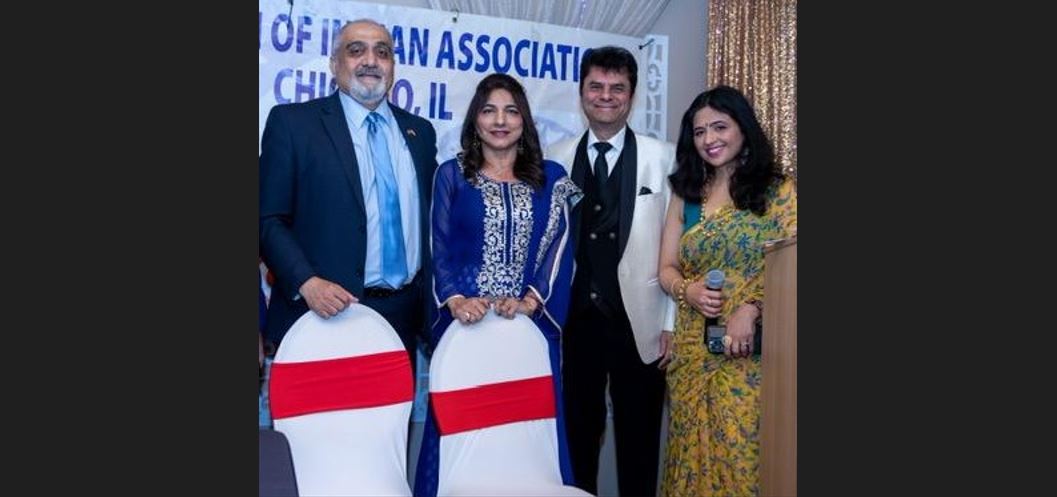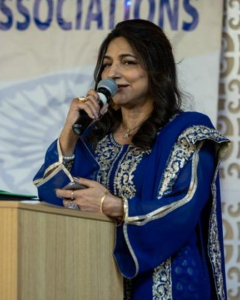 India Post News Service
CHICAGO: The Federation of Indian Associations (FIA) organized its Annual Board Meeting and Diwali Celebration on November 13 2022 at Big Suchir Restaurant, Downers Grove, a Chicago suburb, attended by the 100-strong FIA team as well as the advisory board members.
FIA TEAM 2023 will be spearheaded by Incoming President Vinita Gulabani strongly supported by 100+ members comprising of Executive Board Members, Directors & Advisory Board Members. The event was presided by Chairman Sunil Shah and Current President Hitesh Gandhi.
Richa Chand General Secretary outlined the achievements of the FIA in the year 2022 and thanked the team for its efforts.
Sunil Shah outlined the successes behind the year 2022, listing the events conducted by the FIA and its team – The Republic Day Celebration, The Partnership with the Chicago Bulls – India Heritage Night, The Holi Celebration, Mother Day Celebration, International Yoga Day and the biggest FIA event to date – Celebration of the 75th India Independence Day with a concert with Javid Ali a prominent singer from Bollywood. He thanked the outgoing team for its hard work in putting together and conducting various India centric and charitable events during the year. He also took the opportunity to welcome new members to team FIA.
Current President Hitesh Gandhi thanked the founding board, and the team 2022 for all the work put in to make the year a resounding success.
Former Vice President of FIA Mrs. Rita Shah congratulated President Hitesh Gandhi and his team for the outstanding year and welcomed Vinita Gulabani as the incoming President. She felicitated Executive Vice President Shital Daftari, Director Ganesh Kar, General Secretary Richa Chand, and Treasurer VaishalTalati for their achievements & dedication.
Sunil Shah announced the FIA Team for 2023
President: Vinita Gulabani.
Executive Vice Presidents: Shital Daftari& Pratibha Jairath.
Vice Presidents: Altaf Bukhari, Anu Malhotra, Richa Chand, Mike Shah &Chandini Duvvuri.
G Secretary: Abir Maru, Treasurer: VaishalTalati.
Jt Secretary: Suchitra Kukreja, Jt Treasurer: Neelam Jai.
Cultural Secretary: Pika Munshi, Jt Cultural Secretary: Ila Patel Chaudhari.
Directors: Chetan Patel, Vibha Rajput, Jitendra Bulsara, Vidya Joshi, Jesse Singh, Bharat Malhotra, N NagasubramaniamIyer, Hitesh Patel, Ashima Washington, Vikas Kalwani, Dr. Afroz Hafeez, Chandni Kalra, Nirav Patel, MurugeshKasilingam, Pratik Deshpande and Hemendra Shah, Lakhinder Sharma, MamtaTaparia, Harry Sidhu, Ashwani Mahajan, Bob Bhavesh Patel, Deepa Sharma, Ganesh Kar, Sonia Luthar, Sumit Singh, Swati Kukian, Manoj Rathod, Ramesh Nair, Rajesh Narayan
New Directors: GuddiVawal, Kavitha Rao, Anshul Bindal, Nipun Joshi, Chintan Patel, Sharda Jain, Vijay Muralidaran, Nilabh Dubey and Kaveeta Rawla.
FIA Chicago was founded to bring Cultural awareness to the Chicagoland area and has now grown to serve the community by hosting many events for the community and helping the community grow and become one. FIA Chicago plans to take on projects like Job Fair, Entrepreneurship camps and Youth Leadership Development Skill Camps.
Al wished the new team all the best for the year 2023.