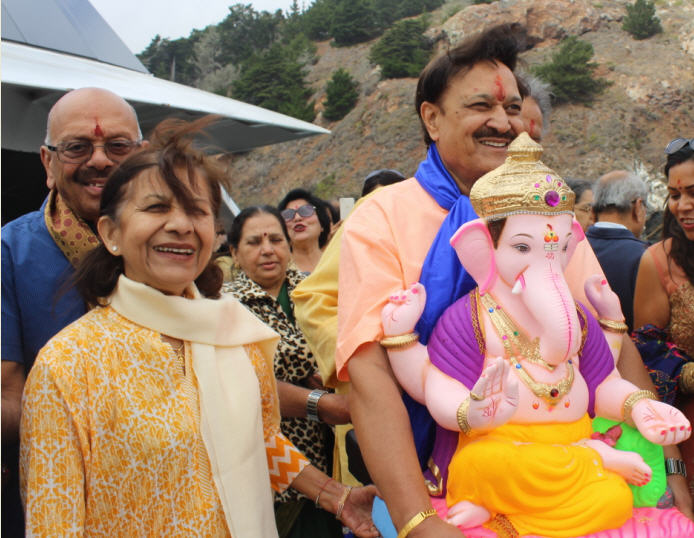 Ritu Maheshwari
India Post News Service
FREMONT, CA: San Francisco Bay Area devotees celebrated Ganesh Chaturthi festival for 10-days with religious fervor. Starting with a colorful festive 'Ganesh Sthapna', every day was marked with decorating Lord Ganesh in different styles and incarnations. Aligning closely with the traditional Ganesh Chaturthi festival in India, the celebration in the temple immersed Bay area devotees in the emotional and religious fervor throughout the period.
Chanting 'Ganapathi Bappa Moriya", it was finally the day for Lord to take leave this year. On September 22, a huge procession comprising many large buses started from Fremont temple towards Pacific Ocean for bidding adieu to the Lord for this year. A deluge of devotees prayed and performed Pooja in the sprawling Fremont Temple grounds before leaving for San Francisco with huge number of idols for the immersion procession.  Over 500 devotees filled up a caravan of buses on their way to San Francisco's Pier 3, some 40 miles away. It was a beautiful amalgam of traditions and modern times as statues made of bio-degradable materials and colors made their way towards the Pacific Ocean.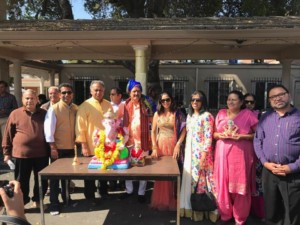 This year, Fremont Temple's was the only celebration to be allowed the immersion in Pacific Ocean, as it met with all the clean environment stipulations.  Everyone got into a huge ship and went onboard a 3-hour long journey for the final leg of visarjan. Along with them, they carried over 600 Ganesh idols that local Bay area residents gave for immersion.
As the ship reached just under the landmark Golden Gate Bridge, it was as if historical landmark for a witness to our age old tradition of celebrating Ganesh festival.  Everyone onboard participated in offering the idols to the ocean and chanted the mantras and wishes for Lord to come back again next year.
Dr. Romesh Japra, Founder Fremont Hindu Temple, said "Our main reason for celebrating this and other Indian festivals in Fremont Hindu Temple and Festival of Globe (FOG) is to ensure immigrant community stays anchored in its cultural and traditional roots, as they realize their American dream. Only when one is attuned to one's heritage can one make the leap toward the future. Our aim is to impart Indian culture and provide a platform to integrate the communities and culture."
Symbolically, as both Pacific and Indian Ocean meet, both Bay area and Mumbai Visarjans unite people across the world.  Ganesh Utsav every year gives our devotees and children an opportunity to participate and learn our spiritual thinking, traditions and rituals.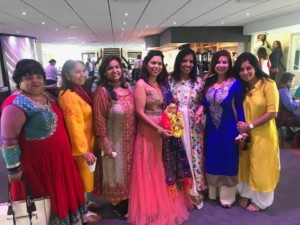 For last 30 years, the community in Bay Area has been volunteering, contributing, supporting and participating in making the FOG and Fremont Temple events immensely popular and successful. Benefits to the community have been very prominent and noticeable. As the young generation gets involved in the celebrations, our hope is for the solid foundation to continue and empower community in carving out a place for itself in the society. India Day Parade and Fair, Indian Republic Day celebration, Holi – Festival of Color and Diwali – Festival of Lights are a few of the signature events organized by FOG that draw thousands of participants every year. Hundreds of volunteers work tirelessly, and some throughout the year to make this possible.