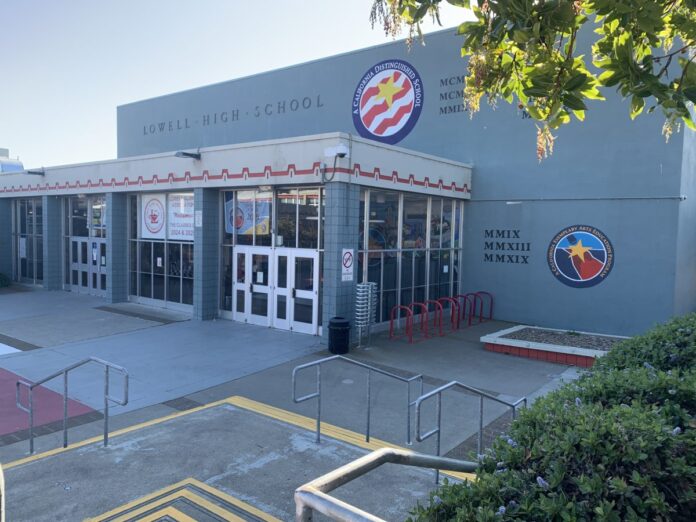 SAN FRANCISCO: The Friends of Lowell Foundation is to conduct a rally outside the Franklin Street San Francisco Unified School District office, to preserve the city's rigorous Lowell High School as an academic, merit-based public high school and, to improve instruction for all San Francisco public school students.
The rally is co-sponsored by the FOLF and the Chinese Parent Advisory Council. It will take place in concurrence with the San Francisco Board of Education meeting, and its participants will enter the Board meeting at 6:30 p.m., when the Board goes into open session.
At the meeting, SFUSD Superintendent Matt Wayne will present his proposal to gut the race-neutral Lowell Admissions Policy and replace it with the same lottery system as the city's comprehensive schools, with the only difference for Lowell being a minimum grade point average. This system excludes any form of entrance exam or application essay. Wayne would also seek to impose more district control over admissions at School of the Arts.
"If they water down admissions rigor at Lowell and SOTA, there will be a giant sucking sound of more families leaving the district," said Lowell alumna Sarah Stettler, who pulled her own daughter out of the SFUSD after elementary school because of the lack of 8th grade algebra instruction. Her daughter is currently applying to competitive-admissions SFUSD high schools Lowell and SOTA, as well as private schools.
"The SFUSD's own survey data demonstrates that 89 percent of SFUSD families support the rigorously merit-based admissions policy at Lowell, so the district needs to stop trying to impose a lottery on Lowell," said FOLF board member Christine Linnenbach, a Lowell alumna. "The last time this happened, the lottery-admitted students were thrown into Lowell to receive alarmingly high rates of 'D' and 'F' grades, meaning that they were not receiving instruction tailored to their needs. No one benefits from that."
Linnenbach launched the successful legal challenge that overturned lottery admissions in 2021. The FOLF is now gearing up for another legal battle; on October 28, Linnenbach filed a cure and correct letter about multiple violations of law surrounding the SFUSD's High School Task Force, the body whose recommendations shaped Wayne's proposal.
To that end, the FOLF is engaging in a $250,000 fundraising campaign. Several generous donors have offered to match funds for the first $100,000.
"Lowell opened doors to the American dream for my siblings and me, as it has done for generations of immigrant San Franciscans, so we must now give back in order to save it," FOLF board member Lee Cheng said. "Those of us who benefited from a Lowell education in the past will now ensure that the students of tomorrow who cannot afford private high schools in San Francisco can also get a quality education."
ABOUT THE FRIENDS OF LOWELL FOUNDATION
The Friends of Lowell Foundation is a 501(c)(3) non-profit organization formed in 2021 to make academic merit-based public education available to as many children in San Francisco as possible. More information and donation opportunities can be found at www.friendsoflowell.org and www.facebook.com/friendsoflowell
ABOUT THE CHINESE PARENT ADVISORY COUNCIL
Formed in April 2021 by seven bilingual Chinese-speaking parents, the Chinese Parent Advisory Council works to promote a community-focused positive culture and quality education in the SFUSD through parent participation in the Chinese community. More information can be found at www.cpacsf.org and twitter.com/CPACSF.
Media Contact: [email protected]