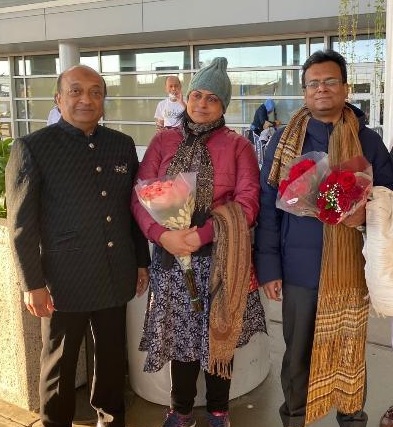 AQ Siddiqui
CHICAGO: Indian community leader Iftekhar Shareef warmly received the new Indian Consul General Somnath Ghosh at O'Hare airport last week, as he arrived with family early morning on Air India nonstop flight from New Delhi. Somnath Gosh will take over from the acting Chicago Indian Consul General T.D Bhutia who was also present along with Vinod Gautham, head of Chancery & Consul commerce for the official reception of the new CG at the airport.
Many other heads of Indian social and community organizations were also present for receiving the new Consul General.
Dr Vijay G Prabhakar, President of Indian American Business Coalition USA honored the new Consul General Ghosh with a special tribally woven shawl from Chhattisgarh, India.
Community leaders including Oswego Historical Preservation Commissioner Subhash George, MAFS &UMAS Founder Ms Santosh Kumar Ji, GSA India 75 Expo Director General Katherine Thorat, FIA Chicago 1980 President Rakesh Malhotra, Amar Upadhyay, Rohit Joshi, Ganesh Kar, Harish Kolasani, Veg Yoga CEO Deepti Suri, Ram Saini, Vinesh Virani and Jayanta Mukherjee, warmly welcomed the new Consul General Ghosh, his wife and two sons to the windy city.
Chicago's new Consul General Somnath Ghosh was overwhelmed with the warm community reception at the airport itself. He thanked and appreciated all Indian community representatives for taking time to come out early morning in Chicago's cold weather.
YogVeda, Bolinbrooks's CEO Deepti Suri brought home made Masala tea and served it to the new Consul General and all the community leaders present for the reception. Kathy Thorat presented a floral bouquet to Mrs Somnath Ghosh. India Hub & NRI Seva founder Harish Kolasani presented a Godiva Box of chocolates to the CG family.