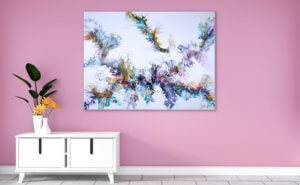 Surendra Ullal
CHICAGO: An abstract artist, Shashi Kerai, makes his name by launching his art brand, Abstracz with his first solo art exhibition in Geneva, a suburb northwest of Chicago.
There were close to 100 attendees at this private exhibition, where Shashi had showcased 13 abstract art pieces in various sizes, with the largest being 4 feet by 6 feet. The nature of his abstract art consisted of lush and vibrant colors infused with jaw-dropping 3D textures that depicted mountains, the Statue of Liberty, the Freedom Tower, anatomical features of a human heart and the Hindu God, Ganesh to name a few.
Kerai's heart-touching and inspiring  speech about his beginning and journey into the art world brought tears to the eyes of attendees who conceptually witnessed his voyage into art and to the actual launch and celebration of Abstracz. The audience remained mesmerized as each piece was unveiled one-by-one, along with a story behind how each piece came to life. Each painting is personally named by Shashi in the ancient language of Sanskrit along with a quote that resonates with each art piece.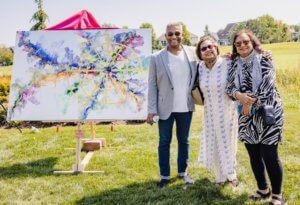 Shashi was born in Manchester and raised in London, UK. Born a Brit and raised an Indian, he stood at the crossroads of two deep-rooted cultures and viewed culture through a unique lens. As an adolescent, he was curious about the working and function of the brain, the most powerful organ in the human body.
His fascination with the way human beings created new memories and lose old memories led him to study Neuroscience in Scotland. Through his years of clinical training as a Surgical Neurophysiologist, he developed a deep understanding of two of the most profound illnesses that paralyze the brain: Alzheimer's and Epilepsy. Over the years, he continued to deepen his understanding and shared his deep brain stimulation research in various publications.
Shashi soon met his wife in America and he moved to the United States to start a family together. In a quest to connect his fondest childhood memories with his surgical training, he sought refuge in art and music. He spent his early 30s diving deep into Indian Classical Music, deciding to study Bansuri, Indian classical flute and graduated from a world-renowned program with the highest honor in classical music.
Today, Kerai is a practicing Surgical Neurophysiologist, and he uses his clinical knowledge of neuronal plasticity and the human brain, to create powerful art that reaches deeper within the human brain. His paintings feature vibrant colors, multi-mediums, and encompass many art techniques to invoke powerful emotions and connections. The abstract platform allows his creativity to flourish and serves as the basis of everyday visual therapy.
At Abstracz, Shashi works with his clients individually to understand their needs and preferences to create a timeless abstract painting that will transform their home and their being.
Shashi Kerai's art can be viewed on his social media pages Facebook – Shashi Kerai, Instagram @shashi.abstracz and will also be viewable from his website www.abstracz.com when it launches in mid-October 2021.