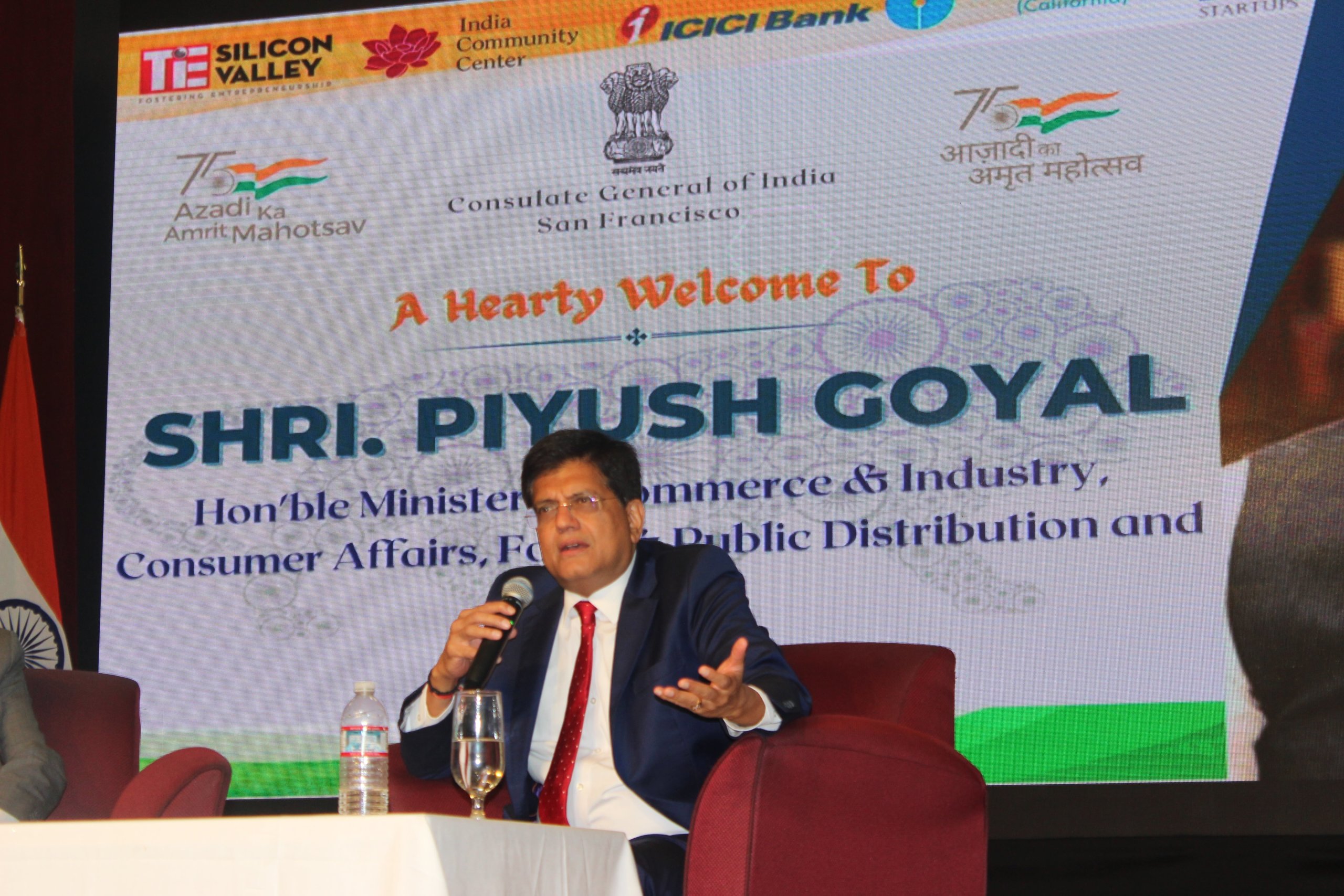 Vidya Sethuraman
India Post News Service
Union Commerce and Industry Minister Piyush Goyal was on a six-day visit to San Francisco and Los Angeles to attend the first Indo-Pacific Economic Framework (IPEF) ministerial meeting. The IPEF ministerial summit in Los Angeles concluded with a consensus from the partner countries on ministerial statements for each of the four IPEF pillars: Trade, Supply Chains, Clean Economy and Fair Economy.
India as an economy in 2047 can be seen as a powerhouse driving global growth, Mr Goyal said as he invited the business community of Northern California to invest in India at a community reception hosted by CGISF at India Community Center on Sep 6. Dr TV Nagendra Prasad, Consul General of India, San Francisco welcomed the minister and underlined California's special place in the U.S. economy and society.
He emphasized on growing India-US relations. He talked about the massive Indian population residing in the USA, in the San Francisco Region of California in particular, which has been contributing towards the business, society, and economy. He mentioned Indo Americans constitute 4% of the Bay area population and have been successful in all walks of life. The event was attended by over 300 that constituted entrepreneurs, venture capitalists, community leaders, elected officials of Indian origin, media and various Indian organization members.
Minister Goyal reaffirmed that both the Government of India and the Government of USA desire to strengthen economic relations & strategic partnership, adding that the strong bond with the people of the United States will transcend into business and government very rapidly.
Mr. Goyal launched The India-US start-up SETU, which stands for Supporting Entrepreneurs for Transformation and Upskilling, will act as a bridge between American and Indian companies. We're also looking at a program that the startup advisory council had initiated in India in which mentorship is being initiated particularly in tier-2, tier-3 and tier-4 towns and remote areas. A lot of good suggestions have been brought to the table," he said. SETU would play a significant role in the realization of Iron Pillar Report's prediction that India will have over 250 unicorns by 2025.
Encouraging investments in India, the minister said that apart from getting a competitive place to do business, companies also get a large billion-plus market of 'aspirational Indians'
Mr. Goyal also highlighted the need for Indian products, especially those under the One District One Program (ODOP) initiative to be promoted all over the world. With the aim to transform each region of the country into an export hub, the department looks forward to identifying potential products that can be exported, addressing the bottlenecks in the process and also helping local exporters/manufacturers to increase production and find potential buyers outside India.
Talking about the initiatives taken by the government to encourage investment in India, Goyal said the government would launch 5G services in October and gradually roll it out across the country. He said, at present about 20,000 villages in remote areas of India have weak 4G connectivity. However, the government has sanctioned USD 2.5 billion to install 4G towers and systems in these areas. Simultaneously, the government was laying down fiber optics for broadband connectivity. He also highlighted that programs like Startup India, Make In India and Open Network for Digital Commerce would further help boost the initiative.
The Minister said that Prime Minister of India, Shri Narendra Modi articulated his vision for a developed and prosperous India in the next 25 years when we celebrate 100 years of Independence.